Kane disappointed by Becks snub
Former England captain David Beckham would have been an excellent Team GB role model, according to Harry Kane.
Last Updated: 30/06/12 3:48pm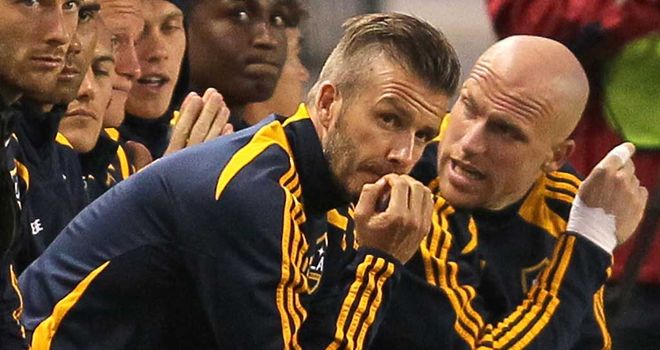 Former England captain David Beckham's experience and status would have made him an excellent Team GB role model, according to Tottenham's England Under 19 striker Harry Kane.
Beckham missed out on the chance to light up London 2012 after Ryan Giggs, Craig Bellamy and Micah Richards were revealed to be the three over-age players in Stuart Pearce's 18-man squad for the Games.
The 37-year-old spent time training at Spurs Lodge during February 2011 while getting ready for the Major League Soccer season with LA Galaxy.
And Kane, part of the England U19 squad who are heading out to Estonia for the start of the European Championship next week, is in no doubt of the influence the former Manchester United and Real Madrid man can still have on upcoming players.
"David Beckham was down here at Spurs when he was getting fit, and it was amazing to see him in the dressing room, to talk to him because he has been through it all and is one of the greatest role models ever," said 18-year-old Kane, who enjoyed a successful spell out on loan with Millwall last season.
"I had a good chat to him because we went to the same school in Chingford, so we had plenty to talk about. From a football base, he was just trying to help.
Unfortunate
"Of course to have players like that around the dressing room is inspiring and you want to go on to what they have achieved."
Kane added: "I would have thought he deserved to go. He had a lot to do with us getting the Olympics and to have him there as a role model would have been the best thing.
"It is unfortunate that he won't be there but that is Stuart Pearce's choice and we have to move on."
While Kane feels it was a 'great experience' to play competitive matches in the Championship for Millwall, the youngster is hoping to break into the Tottenham first-team under Harry Redknapp's replacement.
"Harry was a great manager who helped me out a lot, and it was a shame to see him go, but that is football," said Kane, who played six times in the Europa League for Spurs at the start of last season, scoring against Shamrock Rovers.
"Now I have to impress the new manager who comes in, whoever it is. I just have to keep my head down, keep doing what I have been doing and hopefully I will get my chance."