Del Bosque defends evolution
Vicente Del Bosque has insisted that his controversial style of play is a necessity rather than a choice ahead of the Euro 2012 final
By Rebecca Stephenson (follow me @1rebs)
Last Updated: 30/06/12 10:03pm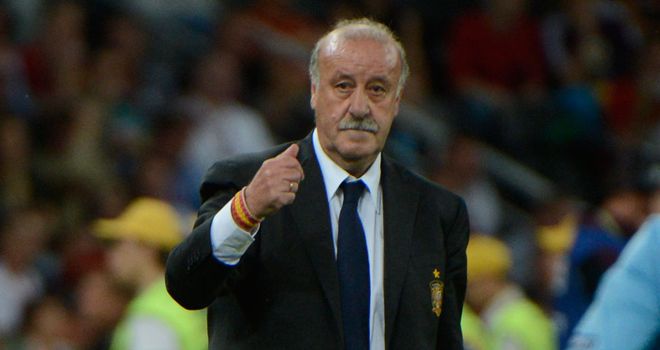 Vicente Del Bosque has insisted that his side's controversial style of play is more of a necessity than a choice ahead of the Euro 2012 final in Kiev on Sunday.
The Spain coach has been criticised for implementing a 'striker-less' system during the tournament, deploying Cesc Fabregas as the point of attack for a host of midfielders.
It has led to a 'boring' label being put on the defending champions, who are now taking almost double the amount of passes before shooting than they did at Euro 2008.
But Del Bosque says they couldn't stand still.
"We cannot stay in the past century," he said. "Football is evolving and our players have changed.
"The nucleus is the same but you cannot say we haven't tried to change anything and have stayed on the same line."
Decide
Del Bosque is yet to decide whether to play with a recognised forward against Italy.
Alvaro Negredo started against Portugal in the semi-final, whilst he opted for Fernando Torres against Ireland and Croatia. The coach also has Fernando Llorente in his ranks, although the Bilbao striker is yet to play a single minute in the tournament.
But whether or not he chooses to use a striking option, Del Bosque still believes his side have an offensive focus.
He continued: "We will play with three attackers that's for sure.
"There will be three men in the front who are going to be responsible for attacking.
"Each member of the team has his own mission."
Meanwhile Iker Casillas has spoken of the change from trying to win the trophy for the first time, and playing as the defending champions and overwhelming favourites.
Different
"This feels different," said the Spain captain.
"Four years ago we achieved something the team had never achieved before.
"Then we won the World Cup, which showed we were evolving as a team.
"After four years, now we are in another final, which is something no-one could have imagined before the first one.
"People talk about creating history. But it has been created already. We did it with that very first win."