Pearce offers Becks lifeline
Stuart Pearce has confirmed David Beckham could be on his Olympics standby list.
Last Updated: 03/07/12 10:02am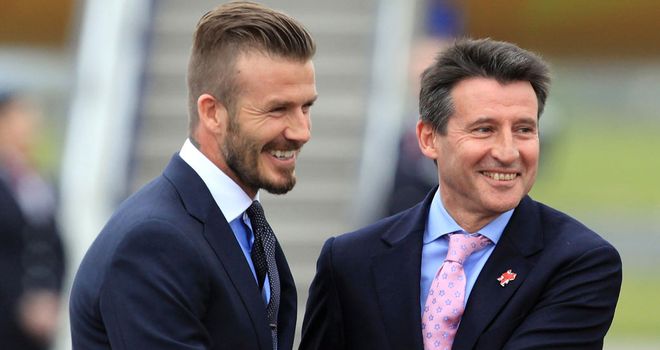 Team GB coach Stuart Pearce has confirmed David Beckham could be on his standby list for the Olympics and is confident he would answer his call if required.
Pearce named his 18-man Olympic squad on Monday but the announcement was overshadowed by his controversial decision not to pick former England captain Beckham.
The 115-cap midfielder has been vocal in his desire to represent Great Britain at the games and his active role in the Olympic bid process meant he was widely expected to be involved as one of three permitted over-age players.
However, Pearce has opted instead to go for Wales stars Ryan Giggs and Craig Bellamy as well as Manchester City defender Micah Richards.
The former Manchester City boss has been forced to defend his decision, insisting it was done for footballing reasons, but did offer Beckham a lifeline.
Pearce names a four-man standby list on Friday and despite admitting he had "not got round" to asking Beckham about his potential availability, he is sure the LA Galaxy man would be willing to be named on it.
"I've not spoken with him [Beckham]. I've spoken with every other player and said, 'Look, that is the requirement we look for'," said Pearce.
Ultimate professional
"David, being the ultimate professional that he is, I'd very much be surprised if he said he wouldn't want to be on that standby list."
Pearce did though suggest Beckham could miss out entirely, adding "Unless an over-age player gets injured, I can't bring another one in.
"More sense might be to make all four standby players under-age so that we will have more of an option."
In a further defence of his team selection, Pearce praised his three over-age players Giggs, Bellamy and Richards, particularly for their form over the past year.
He did though acknowledge that his decision not to pick Beckham is a significant one.
"There's no doubt David had a burning ambition to be part of this - he said it many times before," said the 50-year-old.
"The other 18 players had the same burning ambition, the three over-age players especially - they have been absolutely desperate to be part of this.
Totally passionate
"I spoke to Ryan Giggs and Craig Bellamy at the same time I spoke to David and it excites them, they are totally passionate.
"What we mustn't be sidetracked with is to think that David is a standalone professional who is desperate to play in the Olympics above anyone else who is on this sheet of paper.
"Craig Bellamy was a certain given, I had to use an over-age pick on that - let alone his form, he's had an outstanding season this year and I think he's been one of Liverpool's best players.
"Micah Richards to come in and supplement the centre of our defence, where I felt as though we had one or two individuals missing, namely (Chris) Smalling, (Phil) Jones, (Kyle) Walker.
"In the centre of midfield, I think Ryan Giggs' form has been outstanding.
"I'm more than happy with the three over-age selections I've picked in regard to that and I think they stand up to any scrutiny because of the seasons they've had in the Premier League.
"You have to make big calls and whilst I would say David not being in the squad is a big-ish call, from the offset I was only ever going to pick on what I see with my own eyes in regard to footballing reasons.
"That's solely what I've done and I have to stand by that, which I will do."