Petrov confident over illness
Aston Villa captain Stiliyan Petrov believes he has conquered "the hardest bit" in his battle to overcome acute leukaemia.
Last Updated: 05/07/12 8:43pm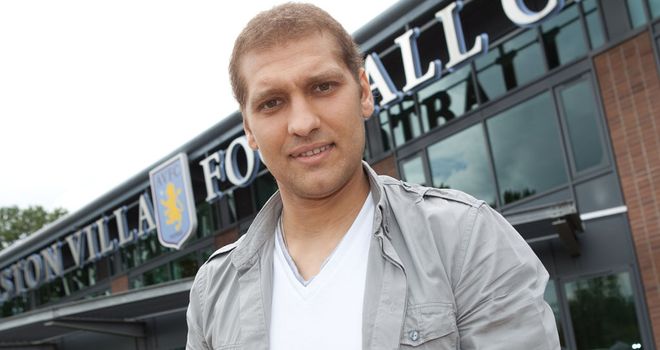 Aston Villa captain Stiliyan Petrov believes he has conquered "the hardest bit" in his battle to overcome acute leukaemia.
Petrov admits he has taken inspiration via messages of support from other people who have won their fight to conquer the illness while undergoing treatment for the past three months.
The Bulgarian international celebrated his 33rd birthday by attending Villa's first day of pre-season under new manager Paul Lambert at Bodymoor Heath on Thursday with Lambert confirming he will remain club captain under his stewardship.
"I've been a strong character since the start of my career," Petrov told the club's official website. "I always believed that you need to be patient and you need to believe in things - and I believe that I will get better.
"I know it is hard and I've been through a hard time but the doctors, nurses and everybody in the hospital have been great to me.
"It has been great because if you have people that you trust it makes it easier and they have made it easier for me.
"I know I've got a few more months of chemotherapy and I need to go through it but I think that the hardest bit is over and from now on I just need to wait for the result to be positive."
Hope
Petrov, who played alongside Lambert at Celtic, added: "I've had a lot of people with the same problem as mine and they've beaten it. They live their life now.
"I have a lot of hope and I haven't stopped believing since the start and I will never stop believing. My family believe as well.
"It is a great help when you read messages and you've got letters from people who have beaten this already and they have already lived 20 or 30 years.
"You just say to yourself I am going to be there as well. I am just not going to stop fighting. I have always been a fighter and I will just keep fighting.
"I'm back home for a bit and I'm enjoying my time seeing friends and enjoying my time with the family.
"I am 33 today and it is good. I've had so many wishes and messages It is a good day and I hope I will keep receiving these messages for a few more years - a good 50 years!"
Lambert backing
Petrov has backed Lambert to revive Villa's fortunes after a disappointing campaign last season when they avoided relegation by just two points.
He said: "I played with him for seven years at Celtic and I am really happy that he has got the job at Villa.
"I am really confident that he is going to do very well for this club because I know him very well. He is really looking forward to working at this club.
"I know the boys will have a great season. I said that the season before wasn't great and we wanted to show we didn't have a great season last season.
"I know this season the boys are looking happier, they want to have a better season and they will have a better season."