Milan rubbish Cesar talk
Adrian Galliani has poured cold water on reports claiming AC Milan are interested in signing Inter Milan keeper Julio Cesar.
Last Updated: 06/07/12 11:49am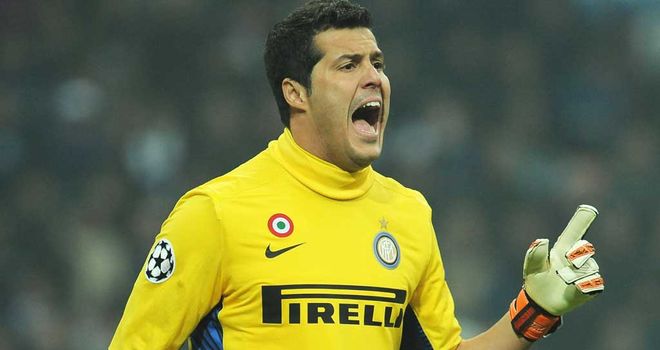 AC Milan vice-president Adrian Galliani has poured cold water on reports claiming the club are interested in signing goalkeeper Julio Cesar from Serie A rivals Inter Milan.
Julio Cesar has been strongly linked with a move away from Inter this summer, with the Nerazzurri outfit set to sign Udinese keeper Samir Handanovic as his replacement.
The custodian has previously said he intends to honour his contract at Inter, which runs until 2014, but the Brazilian was not included in the squad list for Inter's summer training camp on Friday.
Reports in Italy claim AC Milan have joined in the race to sign the Brazil international, who is also a reported target of Roma and Manchester United.
But Galliani said to Gazzetta dello Sport: "He (Julio Cesar) is a very good goalkeeper but we are not interested in him.
"We already have three goalkeepers and we are fine as we are.
"We recently signed Gabriel, a young Brazilian goalkeeper."
Robinho
Galliani also denied Milan had received an offer from Primera Liga side Malaga for Brazilian forward Robinho.
Malaga are reportedly willing to offer €15million to acquire the South American, who is under contract with the Rossoneri for two more seasons.
"We have not received any offers for Robinho and I'm not aware of any interest by Malaga," said Galliani.
Robinho joined Milan from Manchester City in 2010.