Lennon anger at Wanyama
Celtic boss Neil Lennon has insisted that he does not want to sell midfield star Victor Wanyama.
Last Updated: 08/07/12 8:34pm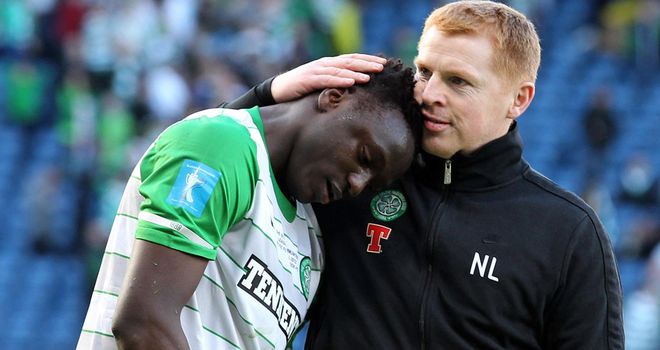 Celtic boss Neil Lennon has insisted that he does not want to sell midfield star Victor Wanyama.
The highly-rated 21-year-old has not hidden his desire to move to England, should a bid be made for his services.
Sky Sports revealed earlier this summer that Liverpool, Stoke City, Queens Park Rangers, Newcastle and West Ham United were all keen.
And Wanyama revealed whilst on international duty that he would be open to a move to the Premier League.
Anger
But Lennon has reacted with anger at Wanyama's comments, insisting he does not want to sell him.
"The rules are made clear before the lads go away. At any time of the year players should not be talking about club business when they are away with their international teams," he told the Sunday Mail.
"That goes for a few of the others and I am not just singling out Victor on this but he knows the club policy.
"It is difficult sometimes when they get asked questions but they should just bat them off really.
"Victor is due back on July 11 and will meet us on tour in Germany.
"It does not surprise me that there is interest in Victor as he had an incredible season.
"We think he is a great player but I'm just not happy about the way things have been dealt with.
"As far as we are concerned Victor is not going anywhere as he signed a long-term contract."
Lennon also revealed that talks are continuing with Gary Hooper's representatives.
"We had a meeting with Gary's representatives in May. I am assuming talks will start again," he said.
"At 24, Gary still has plenty of progress left in him."
Henriksen
Lennon also confirmed he is keeping tabs on Rosenborg's highly-rated midfielder Markus Henriksen.
"Henriksen is a player we have had our eye on for a considerable time," he said.
"Central defence is the position we are looking to strengthen most but I am still looking to bring two or three players in."