Pompey eye Rangers raid
Portsmouth are lining up a deal for former Rangers midfielder Rhys McCabe, Sky Sports understands.
Last Updated: 09/07/12 1:55pm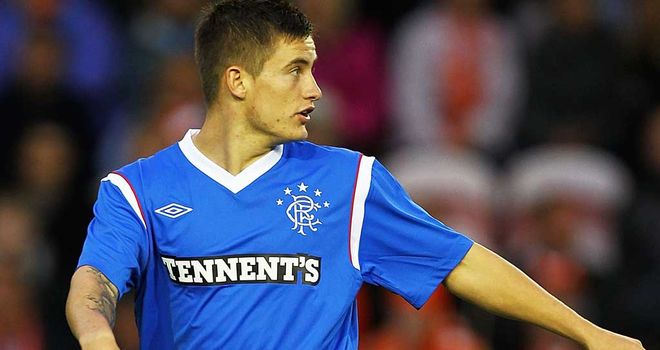 Portsmouth are lining up a deal for former Rangers midfielder Rhys McCabe, Sky Sports understands.
Pompey are still in administration and currently cannot sign any players as they are under a Football League transfer embargo.
But the club are hopeful they will soon be out of administration and in a position to allow manager Michael Appleton to sign new players.
Last week saw Appleton appoint a new director of recruitment in Luke Dowling, with the anticipation of soon being able to finalise moves.
Sky Sports now understands that as well as striker Izale McLeod, who they have been talking to for a number of weeks, they also have McCabe in their sights.
McCabe was one of the players who turned down the chance to transfer his contract to the Rangers newco and now he looks set for a move to England.
Dowling has revealed that he and Appleton have plans in place to move for players once they get the green light.
Frustration
"The Football League's embargo is frustrating but obviously it does not mean we aren't carrying out work to bring players in," confirmed Dowling.
"We are continuing to speak to players and as soon as we get the go-ahead those players identified will come in.
"Michael's phone doesn't stop ringing. That shows people want to come to this football club and that is the important thing.
"He had targets before I came in and I have now added to that.
"If we can get what we want then I know we'll have a good team who can achieve good results.
"Sooner or later we are going to be allowed to bring players in. Whether that's July, August or two weeks before the season, it is going to happen - and we are ready.
"You will see within a few days of getting the green light one or two will come in straight away.
"We have identified players who are aware of our interest in them and we are aware of their interest in coming to play for us.
"Unfortunately there are a few obstacles in the way but as soon as we get the all-clear we'll have people ringing us up and knocking on our door."
Another player on their radar is full-back Jon Harley - who has joined the club on trial for pre-season.