Weimann ready for competition
Aston Villa striker Andreas Weimann says he is prepared for Paul Lambert bringing in another striker, and will be happy with more competition
Last Updated: 11/07/12 1:39pm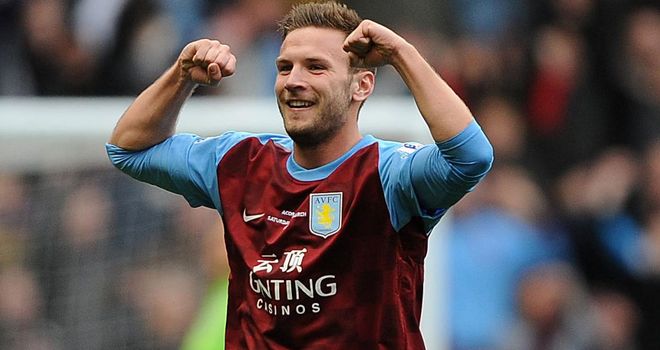 Aston Villa's 20-year-old striker Andreas Weimann says that he is not worried if new boss Paul Lambert signs a new striker this summer.
Weimann is one of four senior strikers in the Villa squad, alongside Darren Bent, Gabriel Agbonlahor and Nathan Delfouneso, and speculation suggests that Lambert will try to sign a new striker this summer.
The Austrian forward scored two goals in 15 appearances for the Villans last season, and is ready to do his best in pre-season to persuade Lambert that he is worth a place in the team.
"There's myself Gabby, Darren and Nathan now that Emile [Heskey] has gone," Weimann told the Birmingham Mail.
Best
"I think for myself it doesn't really matter if a new boy comes in because I've still got to be at my best in pre-season to show the gaffer what I can do.
"If he thinks I'm good enough to play then I'll play. Obviously, if a new striker comes in it is good for the competition, but for myself I've got to be more concerned about showing the gaffer what I can do myself.
"If I impress I'll play, if I don't I won't. Everyone starts with a clean slate because it's a new manager and if I do well in training I'm sure I'll get my chances.
"I got the taste for it last season, I want to hopefully get a few chances next season by showing the new gaffer in pre-season what I can do.
"If he gives me chances then obviously I'm trying to do the same things I did last season and hopefully get some goals as well.
Targets
"I've never really set myself targets. I just go into the game and if I get a chance I'll try and score it. Whatever comes comes.
"Obviously we've had a small squad in the last few seasons. I don't know what the manager's plans are - I've not heard anything.
"But if there's new faces coming in then it would probably be good for the squad to freshen it up.
"If not, we've got good players here, so whatever happens we will be better."