Terry 'used racial abuse'
John Terry used "straightforward racial abuse" against Anton Ferdinand rather than sarcastically repeating a racist slur, a court heard.
Last Updated: 12/07/12 1:57pm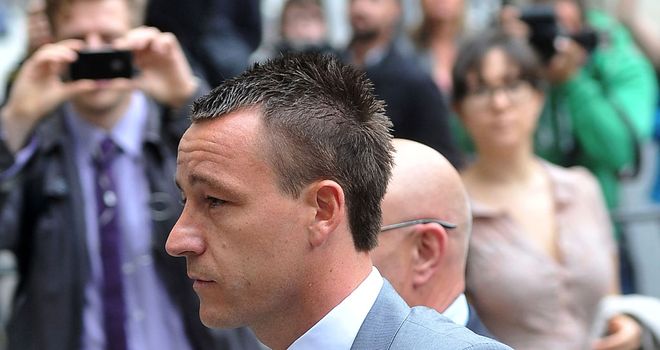 John Terry was using "straightforward racial abuse" against Anton Ferdinand rather than sarcastically repeating a racist slur, a court heard on Thursday.
Terry, 31, is accused of using racist language to QPR centre-half Ferdinand during a Premier League match on October 23 last year. A verdict is expected on Friday afternoon.
Making his closing speech at Westminster Magistrates' Court, prosecutor Duncan Penny said on Terry's account, Ferdinand had used the word "black" as well as highly offensive swearwords.
Terry claims that he simply repeated back the slur that Ferdinand wrongly thought he had used, and denies a racially aggravated public order offence.
This meant that Terry added another swearword, and had also used the word 'and' before the racial obscenity, Mr Penny said.
"If it's rhetorical repetition, why does the word 'and' feature at all? Why are any other words spoken by Mr Terry at all?," Mr Penny asked.
The pair had traded insults in the run-up to the alleged racist insult.
Ferdinand taunted Terry about his alleged affair with a team-mate's ex-girlfriend, while Terry implied the QPR player had bad breath.
Mr Penny said it was unlikely that Ferdinand would have had the "motivation or frankly the sophistication" in the heat of the moment to make up an allegation that Terry had used racial abuse.
"A false allegation of racism would be an accusation which involved more sophisticated thought processes than had hitherto been going on, on that football pitch," Mr Penny said.
He said Ferdinand would not be the first "victim" who was reluctant to give evidence in court.
Speculation
"What was in this for Anton Ferdinand? This case will follow him for the rest of his career. He made it clear he did not wish to be here (in court), just like Mr (Ashley) Cole," the prosecutor said.
"Was it, in the case of Ferdinand, because he had made a grave and false allegation against the England captain?
"You may wish to ask yourself the question, whether in truth he was brave to give evidence in this trial?"
Making his closing speech, George Carter-Stephenson QC, for Terry, said that the prosecution case was based on "speculation".
He said: "This is not a case about racism. The prosecution in cross-examination conceded that he is not a racist.
"There is an abundance of evidence in this case to prove that fact.
"The way that this case is put is that on this occasion Mr Terry completely lost his cool and made an inappropriate remark making reference to a physical characteristic of Mr Ferdinand, namely his colour, in response to words conceded to have been repeated taunts and insults referring to his alleged affair with Mr (Wayne) Bridge's partner."
He told the court there was no direct evidence about what Terry had said, other than the Chelsea defender's own account.
Inconsistent
Mr Carter-Stephenson said Ferdinand was "inconsistent and unreliable both on words and events and could not satisfy the court to the criminal standard".
He went on: "No matter what the words actually were, if they were or may have been Mr Terry repeating back what he believed Mr Ferdinand had accused him of, then that's the end of this particular case."
Mr Carter-Stephenson said Terry would not have lost his temper over goading about the alleged affair, which he had faced "hundreds of times before".
"Can it really be right that Mr Terry totally loses his cool, as suggested by the prosecution, in relation to a further taunt by Mr Ferdinand about shagging his team-mate's missus?" the barrister asked.
"The defence suggests that there is an inherent implausibility in that, given the evidence before this court.
"Mr Terry has 600 games behind him by way of professional top-level football experience, spanning 14 years. He has been sent off on four occasions, never in relation to his language.
"It is inconceivable to suggest that the taunt from Anton Ferdinand, that Mr Terry has heard hundreds of times before, and you may think he's heard far worse in relation to his mother, made him snap in the way suggested."
The verdict will be announced at 1400 BST on Friday.