Tomkins - I can't wait
James Tomkins says he can't believe he will play a part in the London Olympics after watching the site materialise.
By Rebecca Stephenson
Last Updated: 12/07/12 8:05pm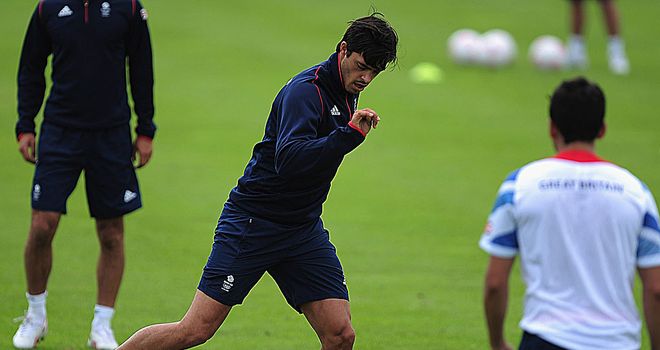 James Tomkins can't quite believe he is set to play a part in the London Olympics after watching the site materialise over the past few years.
The West Ham defender will play a major part in Stuart Pearce's Great Britain line-up as they look to win gold in their own back yard.
He was just 16 when it was announced that London would stage the Games in 2005, and he admits it never crossed his mind he could become an Olympian.
He said: "I never expected it. All the years since we knew it was coming to London, you never once thought you'd be taking part in it.
"I've seen so much building work going on over the years. I've been travelling past it everyday.
Incredible
"It's going to be incredible for the whole country. We can't wait for it to begin.
"It feels weird saying I am taking part for Great Britain having represented England all these years," Tomkins said.
"But it's something I know I'll look back on in years to come and be very proud and honoured to have been part of."
Team GB kick off their campaign against Senegal at Old Trafford on July 26th before heading to Wembley to take on UAE three days later.
And despite wearing the Team GB shirt, Tomkins admits he still feels the desire to emulate the greats of his club when it comes to the national stage.
"I feel like I'm representing West Ham as I'm the only player here," said the 23-year-old.
"It's a big honour. I don't try to think of what Bobby Moore achieved too much.
"What he did was unbelievable. To get anywhere near that would be massive."
Brazil
Before the tournament kicks off in earnest, Pearce's men will face Brazil in Middlesbrough on July 20th.
It will be a tough task as the team that won the bronze medal in Beijing boast the likes of Neymar, Manchester United defender Rafael and much-touted Porto striker Hulk within their ranks.
"I've watched Brazil so many times," added Tomkins. "They bring up their young lads in exactly the same way.
"We know what to expect. Technically they will be very good and we'll have periods of the game where we might not have too much of the ball, so we'll have to be very disciplined."