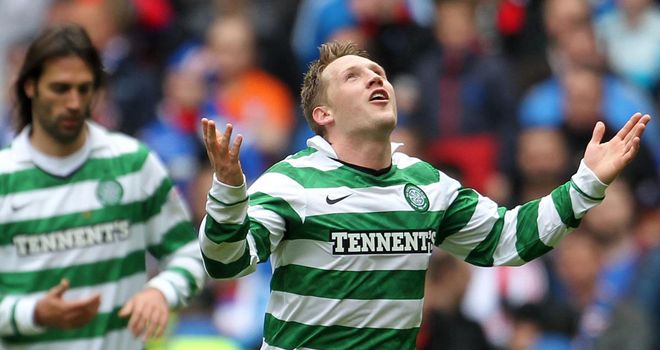 Kris Commons is hoping the difficult pre-season programme at Parkhead will stand the side in good stead for the UEFA Champions League.
Neil Lennon's side face Inter Milan, Ajax and Real Madrid before the season gets underway as they look to familiarise themselves with the European style of play ahead of their qualifier for Europe's premier competition at the start of August.
Lennon and captain Scott Brown have already targeted reaching the group stages and Commons thinks that the game against Inter Milan especially will help them adapt.
Tough
He told CelticFC.net: "It will be good to play against an Italian team to get a sense of their culture and an idea of what tactics they use. It will be a tough test but it should be a good occasion.
"The way we're preparing for the season and the Champions League qualifiers, our mentality will be to look for the win.
"Hopefully there will be a good crowd there to make it feel a bit like a European night, it will be like a warm-up for the Champions League qualifier in a way."
Lions
The match forms part of the club's 125th anniversary celebrations as a rematch of the 1967 European Cup Final which the infamous 'Lisbon Lions' won 2-1.
Commons continued: "I wasn't aware of the Lisbon connection until recently but now I know the Lisbon Lions will be there to see the game and why.
"That will be great for them, it was such a massive part of our history and I think for John Clark and his team-mates to see them come to Celtic Park for the game it will be really nice.
"The Celtic fans usually turn up anyway, especially when a big team is in town, and it's something the players are looking forward to as well.
"We're always looking to play opposition who are potentially Champions League winners."