Richards keen to justify faith
Micah Richards is excited to be part of the Olympics and wants to reward Stuart Pearce's faith in him.
Last Updated: 13/07/12 2:16pm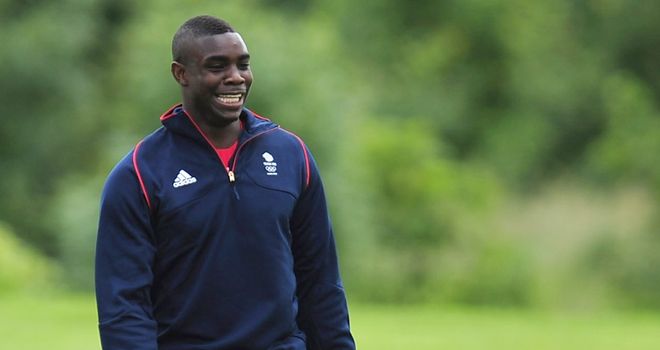 Micah Richards has revealed his excitement to be part of the Olympics and his desire to reward Stuart Pearce's faith in him.
The Manchester City defender was named ahead of David Beckham as one of the three over-age players in Pearce's 18-man Great Britain Olympic squad.
And the 24-year-old defender had no hesitation in agreeing to play for his country - and a man who clearly believes in him so much.
"When Stuart gave me the call and asked me if I was keen to be part of it, I said 'definitely'," Richards told the Daily Mirror.
"People say it's not a Euros, it's not a World Cup, but it's a once in a lifetime opportunity and when he asked me I jumped at the chance.
"To say to your kids and grandkids that you represented your country at the Olympics is massive.
"With Stuart, he's not afraid to do his own thing. When he took charge of England against Holland in February he changed a lot of faces.
"Here a lot of people were talking about David Beckham, but Stuart has gone with what he thought would be right for the team.
Experience
"I think that's a sign of a good manager, and I do believe in the future he will get the England job.
"I said back in February I didn't want him to get it too soon because I didn't want people to crucify him, but as he gets more experience I think he'll definitely get the job.
"Stuart gave me my debut at City and he's been amazing for me.
"Of all my managers, he's had the most belief in me. He made me captain of the England Under 21s, then when he got the job for the seniors against Holland he played me.
"Now he's picked me for GB and it shows the massive faith he has in me. It would be nice to repay it.
"When we lost against Holland I was gutted because I wanted to do it for him. All the players are the same."
Tough
Those players include fellow over-age players Ryan Giggs and Craig Bellamy as well as young players such as James Tomkins and Joe Allen.
And while Richards acknowledges it will be a tough task to succeed, he believes in his team-mates and is looking forward to the challenge.
He added: "Playing with Ryan as captain is great, while I'd compare Joe to someone like Andres Iniesta, because he knows how to use the ball.
"I've heard people saying they're not going to watch the Olympics but it's probably been one of the best experiences of my life.
"Meeting up with the team, seeing the women's squad as well - it's amazing.
"We're all so excited to get started. Brazil will be a great test, when you look at their squad and players like Neymar, Pato, Sandro, Rafael and Hulk.
"But that's what you play for, to come up against the biggest teams.
"I think we're all confident. We have to be realistic. We're a new team and we can't expect to gel together immediately, but we've got cracking players.
"We don't fear anyone and we're confident in the players we've got here."