Coloccini targets same again
Fabricio Coloccini insists Newcastle are no 'one-season wonders' and will be competing for UEFA Champions League football again this season.
Last Updated: 15/07/12 11:33am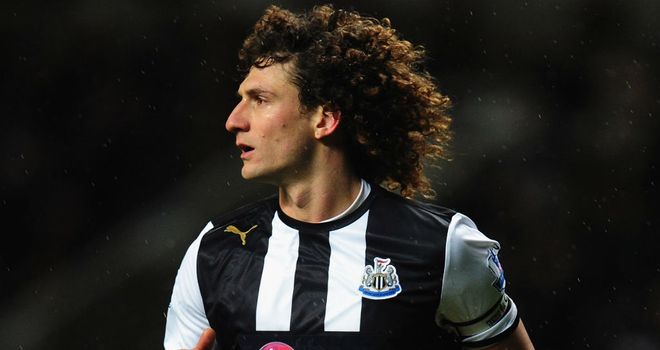 Newcastle captain Fabricio Coloccini insists his side are no 'one-season wonders' and will be competing for UEFA Champions League football again this season.
The Magpies were one of the surprise packages of the Premier League last term, finishing fifth in the table after challenging for European football throughout the campaign, aided significantly by the goalscoring antics of Demba Ba and January signing Papiss Cisse.
Questions have been raised over whether Alan Pardew's men will be able to sustain their success for another season but Argentinian centre-back Coloccini is confident they can repeat their heroics.
Confident
He told The Sun: "I'm not interested what the critics think - we are no one-season wonders.
"I accept the Premier League is becoming far more competitive and challenging at the top end of the table is becoming increasingly difficult.
"But we are confident that more success lies ahead. Newcastle are one of the biggest clubs in England and therefore we should be challenging for major honours.
"We don't feel under any more pressure because of what we achieved last season. If anything, we are relishing the season ahead. Our success has brought with it greater confidence and more determination to do better.
"Last season we more than demonstrated we are a side that can challenge the bigger teams. Up to the last day of the season we were challenging for Champions League football.
"It wasn't achieved by chance, either. Over the season we showed great consistency and our goal this season is to better that success.
"I don't expect things to change. The likes of Manchester City, Man United, Tottenham, Arsenal, Chelsea, Liverpool and ourselves will be fighting for the four available Champions League places.
"I'd expect the club to strengthen the squad as well so, with some new players coming in and the current confidence that exists throughout the club, why shouldn't we be optimistic?"
Influence
Coloccini believes manager Pardew has been a major factor in Newcastle's progress, adding: "He is a fantastic coach and a major influence and driving force behind the success.
"From the first day of last season's campaign he installed trust and confidence in the players. He felt we were more than capable of challenging the top teams and, when people were expecting us to fall away, we just kept getting stronger and stronger.
"There was no coincidence or luck that we finished so high up in the table - the players thought we would. The only disappointment was that we didn't finish higher."