Green waiting on license issue
Charles Green admits there are still some issues which need to be addressed before Rangers can take their place in the Scottish Third Division.
Last Updated: 16/07/12 5:14pm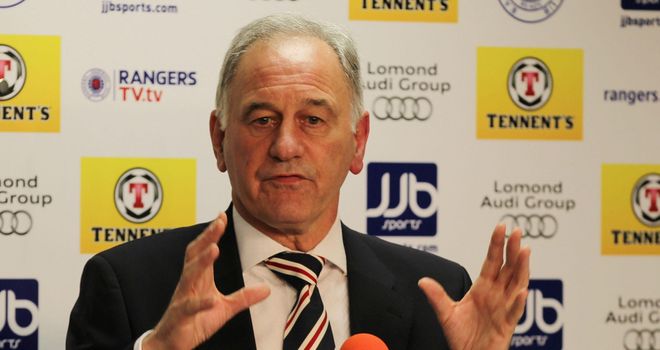 Rangers chief executive Charles Green admits there are some issues which need to be addressed before the club can take its place in the Scottish Third Division.
The newco at Ibrox were voted into the fourth tier on Friday after seeing their application to enter the Scottish Premier League rejected.
Their place in the top-flight has been filled by Dundee, leaving the Gers to contemplate life in the Scottish Football League.
Those in Glasgow are determined to make the most of a difficult situation, but Green has revealed that the club are still waiting on the license which will allow them to fulfil their fixtures in 2012/13.
"I don't think there's a time limit on it (the license) but we definitely need it as soon as possible, but there's still a number of issues outstanding between Rangers and the SFA and we're working on them now," he said.
"We wish Dundee every success and we are now looking forward to reaching an agreement with the SFA so that we can get on and start playing in the Third Division."
Throughout the saga surrounding which division Rangers should enter - with the SPL, First Division and Third Division all possibilities at the outset - SFA chief executive Stewart Regan has come under scrutiny for his handling of the affair.
Difficult
A leaked e-mail containing Regan's plans to parachute Rangers into the First Division made matters worse and Green thinks he may step down.
"I think for everyone who has been involved with this story it has been difficult," he said.
"Leaked e-mails are never helpful and I'm sure Stewart will do the right thing."
Green is currently fighting fires on numerous fronts, with senior stars such as Steven Davis, Kyle Lafferty, Jamies Ness, Steven Whittaker and Steven Naismith having moved on.
Romanian defender Dorin Goian looks like being the next to head through the exits, with Green conceding that it is difficult to sell fourth tier football to players of an international calibre.
He said: "I spoke with Dorin yesterday (Sunday) and he has been fantastic throughout but it is unlikely that he would stay with Rangers playing in the Third Division.
"Clearly if he wanted to stay then we'd be delighted but for a player of his status and stature it is unlikely."