Uncertainty worries Halford
Portsmouth defender Greg Halford has revealed the "very scary" situation the club's senior players are in this summer.
Last Updated: 16/07/12 9:01pm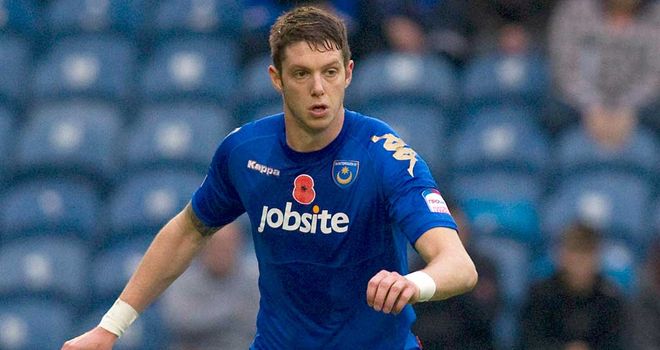 Portsmouth defender Greg Halford has revealed the "very scary" situation the club's senior players are in this summer.
The 27-year-old is one of a number of professionals at Pompey not being paid his full wages and not invited on the club's pre-season tour to Spain.
But Halford's chief disappointment appears to be the lack of communication from the club's administrators as the players are left to find new clubs on their own.
"There hasn't really been any conversation on why we're not going so anyone can read what they want into the situation," he told Sky Sports News Radio.
"Everybody knows the administrators want the senior players off the wage bill to bring it all down so that's probably the logical explanation behind it all.
"So we're still in pre-season training with (development coach) Guy Whittingham at the training ground. And I suppose we're still looking for clubs.
"It's such a unique situation and I'm sure I'll never be in this situation again. It's very hard to get your head round.
Communication
"There has been such little communication between us as players and the administrators, which makes it even harder.
"They say they want you off the books but they're not really doing anything to get you off the books.
"Everyone thought they'd be on the telephone, calling clubs just trying to push things through but it doesn't seem as though they've been doing an awful lot, which is hard to take.
"Football is our livelihood. It's our passion. It's what we do. For me, it's pretty much all I know and to be in this situation is very scary.
"I've always been confident in my ability and I'm sure there is another club out there willing to sign me and put their faith in me.
"I'm able to go and talk to anyone who wants to have a chat with me about my future. I'm there at the drop of a hat. The club aren't going to stop us talking to clubs."
Halford would not rule out staying at Fratton Park but admitted he is hoping to get the chance to play at a higher level now clubs are back in pre-season training and managers are assessing their squads.
The former Sunderland and Wolves man added: "I've become very fond of the club over the year-and-a-half that I've been there, through all the ups and downs.
"If there was a possibility (to stay) I wouldn't rule it out. (But) I think I am better than League One. I'd always back myself to play at a higher level than League One.
"It's so hard to talk about it because everything is still up in the air and nobody knows where we're going to be this time next week.
Unique
"I've had an offer from China which I turned down pretty much straight away. In terms of English clubs, there has not been much actually.
"I'm in an even more unique position in that I'm in the process of changing agents so until that's done I can't really talk to clubs because it will be a breach of contract to my current agent so it's really tough.
"Maybe if managers hear this, I'm fully prepared to do my own deal - talk to clubs myself and negotiate my own contract."
Tal Ben Haim, Liam Lawrence and Dave Kitson are among the other players still contracted to Portsmouth but not wanted at the club, while Kanu has not shown up for pre-season training.
"I can't really talk about other players but obviously we talk in the dressing room about what we're going to do," said Halford. "Whether we are going to hand in our 14-day notice and stuff like this.
"We're all getting paid but it's only a very small percentage of our wages. Each week we don't get paid it goes straight to the deferral money (kitty) that is racking up and up.
"Obviously that's a debt for the club and another reason for them to get us off the books.
"No-one has seen King (Kanu). I don't think any of the players have really had any contact with him. He hasn't been in for any of the days and we have no idea what his situation is."