Ruddy - We must tighten up
Norwich goalkeeper John Ruddy accepts the team must improve defensively if they are to progress in the Premier League.
Last Updated: 16/07/12 11:02pm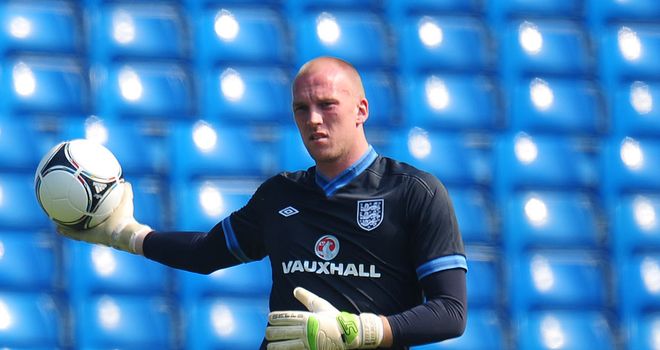 Norwich goalkeeper John Ruddy accepts the team must improve defensively if they are to progress in the Premier League.
The Canaries finished a creditable 12th place on their return to England's top flight under Paul Lambert, who has since left to take over at Aston Villa.
But despite their impressive efforts, Norwich ended the season with a goal difference of minus 14.
Ruddy himself earned a call-up to the England squad for Euro 2012 only to then be forced out by injury.
But even he believes that negative goal difference statistic must improve if Chris Hughton's side are to avoid being dragged into a relegation dogfight.
"You know you are always going to be busy in a league like this, but last season, we only managed something like three clean sheets and we want to build on that," said Ruddy.
"We score as a team and defend as a team, so we know that is not enough.
"We need to tighten things up because last season you felt we always had to score two goals to give ourselves a chance of winning, whereas this season we would like to say, 'right, we will score one and still win'.
"That is the aim, and if we can score more goals than last season and let in less, then that is a good recipe."
Injury
Ruddy's Euro 2012 tournament hopes were scuppered when he broke his ring finger - just 10 days ahead of his wedding - in a training ground accident with Dave Watson, who is now part of Hughton's backroom staff at Carrow Road.
The 25-year-old admits he "grimaced" at the ceremony when his wife exchanged rings, but he remains positive over future international ambitions.
"It was just one of those things and could have happened at any time during the season, but it happened with England, which is a positive in itself," said Ruddy.
"We will take it into next season and hopefully if I maintain my level of performances, then I will be back in the England squad again."
Ruddy is likely to be in line for another call-up ahead of the friendly against Italy in Switzerland on August 15.
He added: "Because last time was cut short after just a few days, I probably do want it more than at the start of last season.
"We looked to have a solid base at the Euros, and now if we can get the goals flowing like we can, then it will stand us in good stead for the World Cup qualifiers coming up.
"First and foremost, though, my job is here at Norwich and as long as I am playing well, then everything else will come when it does."
Progress
Ruddy, who joined Norwich from Everton in July 2010, penned a new four-year deal at Carrow Road earlier this summer.
And the goalkeeper feels former Newcastle and Birmingham boss Hughton can continue the club's progress.
"Chris is a really nice guy to work for and has brought a fantastic backroom staff with him as well," the goalkeeper said.
"We need to maintain the same levels, regardless of whether the old manager stayed or not.
"The new boss coming in now might even help us with that 'second-season syndrome', because we all need to impress him.
"We have got a very solid squad, now we have to raise it that extra step."