Fergie calm on Berba future
Sir Alex Ferguson would be happy for Dimitar Berbatov to remain at Man Utd but understands why the out-of-favour striker wants to leave.
Last Updated: 19/07/12 8:38am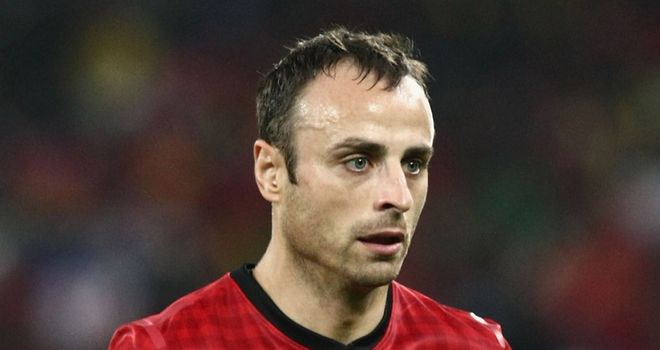 Manchester United boss Sir Alex Ferguson says he would be happy for Dimitar Berbatov to remain at Old Trafford but understands why the out-of-favour striker wants to leave.
United's record signing has cut a lonely figure since being left out of the squad for the UEFA Champions League final defeat to Barcelona in 2010.
Berbatov was further squeezed out last term thanks to the emergence of Danny Welbeck, in addition to the presence of Wayne Rooney and Javier Hernandez.
Speculation
The 31-year-old Bulgarian took to his Facebook site earlier this week to question how he was still at Old Trafford when it was obvious he had no future.
Berbatov has been linked with AC Milan, who have just sold Zlatan Ibrahimovic to Paris St Germain, and also a possible move to Turkey.
After the £30.75million man featured in an advanced midfield role in Wednesday night's 1-0 win over AmaZulu in Durban, Ferguson explained his mixed feelings over Berbatov.
"I do not need to herald the abilities of Dimitar Berbatov, he is a fantastic talent," said Ferguson.
"Last season he didn't quite get the amount of football he wants. At his age, it was difficult for him to accept his position in the forward line.
"He had Rooney, Welbeck and Hernandez in front of him, and they are all young men.
"The boy has a future, but if he wants to leave it is a different matter.
"I am easy about it if he stays. I would be happy with that. But if someone comes in and Dimitar wants to leave, we will assess it."
Meanwhile, Ferguson has reiterated that the number one priority for him this season is to reclaim the Premier League title from Manchester City.
The manager is expecting Paul Scholes to play a big role, even though he will celebrate his 38th birthday in November.
Good decision
"He showed when he came back in January that he has not lost any ability," said Ferguson.
"It is not easy after being out for seven or eight months, although I felt he should never have gone away anyway.
"It was a good decision to come back and he can contribute in a big way for us."