Futacs explains Foxes move
Marko Futacs has set himself a 10-goal target as he looks forward to a top-six finish with new club Leicester.
By Juha Pal
Last Updated: 19/07/12 10:40am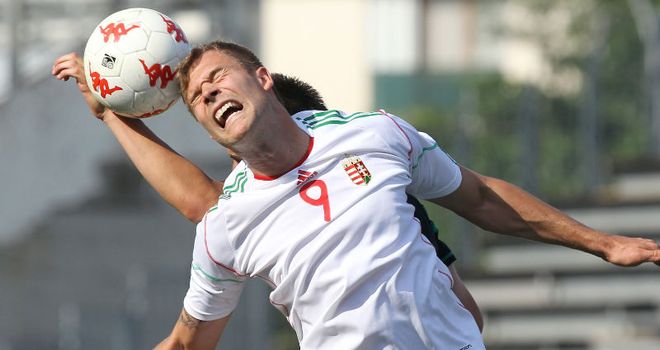 Marko Futacs has set himself a 10-goal target as he looks forward to a top-six finish with new club Leicester.
Futacs joined the Foxes on a free transfer after leaving Portsmouth at the end of the season and the Hungarian striker has revealed the circumstances surrounding the switch.
"Portsmouth exercised their right to extend my contract during last season so my deal was extended automatically," the 22-year-old explained in a Hungarian press release.
"But at the end of the season we had to have new talks because of the club's critical situation.
"The offer I received was not suitable from any point of view and I wanted to continue my English career in the Championship. I didn't sign, so I became a free agent.
"I was linked with several clubs during the summer. Barnsley, Watford and Crystal Palace showed their interest but finally we decided to choose Leicester City.
Playing style
"I agreed with my agent that he would look for an English club for me because British football fits my playing style best. This is the place where I can show the best of my qualities.
"I learned a lot in Portsmouth. The coaching staff worked with me separately and I know that I'm not a 'ready' footballer, but now I can say that I'm not an inexperienced striker.
"After the medical, I met manager Nigel Pearson and he told me that the club is eyeing promotion and the minimum goal is to reach a play-off place.
"I got a warm welcome here and they knew me because I scored my first Championship goal against Leicester.
"I ended the last season with five goals and three assists - I would like to double up this amount in the coming season."
Challenge
Futacs' agent Vladan Filipovic admitted the 6' 5" forward could have earned more money outside of England but is attracted by the challenge of the Championship.
"He had opportunities in Russia or Ukraine but we didn't sit down to talk because I agreed with Marko that I'd try to find a new team for him in England," added Filipovic.
"It's not a secret that the financial conditions for a player in the East are much better but this time the football challenge was the most important thing.
"In the Championship, a player like Marko is a huge asset. He is very good physically. He is quite good with the ball and has a good goalscoring ability."