Sigurdsson scores on debut
Gylfi Sigurdsson made a goalscoring start for Tottenham but admits it counts for nothing when the real business starts next month.
Last Updated: 19/07/12 3:06pm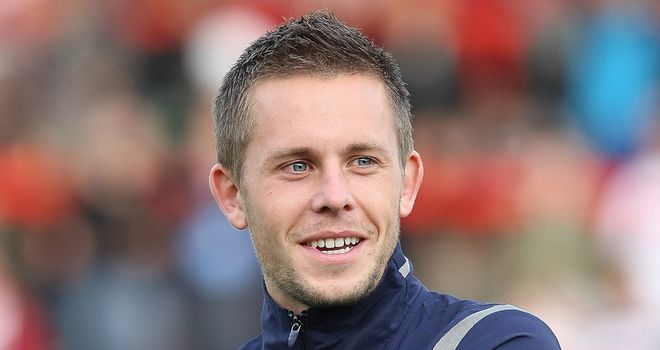 Gylfi Sigurdsson made a goalscoring start on his Tottenham debut but admits it counts for nothing when the real business starts next month.
The £8million summer signing from Hoffenheim, who scored seven goals in 19 games while on loan for Swansea last season, netted in Thursday night's 2-0 friendly win for Andre Villas-Boas' side at Stevenage.
And while the 22-year-old midfielder is pleased to be off the mark he is eyeing more important goals when the season gets under way against Newcastle on 18th August.
"It was very nice to get a goal but I think the most important thing is getting used to playing football again," Sigurdsson told London24.
"It's always nice to score. It probably would have been better to score in the Premier League but it was good to get my first goal of the season and it will give me confidence for the next couple of weeks.
"I'm off the mark, but in a friendly it doesn't really matter.
There's no point scoring in the friendlies if you don't score in the league, so as long as I'm getting close to full fitness, and getting fitter and stronger every week, that's the most important thing.
"The manager has kept me calm, he's just said to keep my head down and train hard and if I do that for the next three or four weeks then I will take how I played last year into the new season.
Pressure
"It's nice to have pressure. It keeps you going and keeps you working hard but if you think too much about it then it could get into your head, and you play your best football when you're enjoying yourself and if you're relaxed - so that's what I'll try to do.
"Hopefully I can continue how I played for Swansea for Tottenham and do well for the team, score some goals and set up some goals."
The Iceland international found the net just 10 minutes after his half-time arrival against Stevenage and took up his familiar position just behind the striker.
It's a role he feels he can revel in given Spurs' free-flowing approach.
"That role is very similar to how I played at Swansea," added Sigurdsson.
"It's right behind the striker and I enjoy it a lot. Hopefully I can play in that role here and do well for the team.
"Will we be playing with this same formation in the league? You'll have to ask the gaffer about that, I'm not picking the formation, but I think it will be quite similar to the way we played tonight.
Attacking
"Tottenham have always played fantastic football. I remember watching them many years ago when I was younger, and they'd concede three but they'd score four.
"They've always played good attacking football and that's how we want to play next season. Hopefully we can continue developing for the next three or four weeks and get a good start.
"It's a really good squad and there's even more players coming back now after the Euros. We've got a few boys coming back from injury so it was nice to see them out there playing, and we're all quite pleased with the performance.
"I think most of the young lads were fantastic. Andros [Townsend] was very lively, Tommy [Carroll] was fantastic in midfield and then Iago [Falque] came on and scored the second goal.
"We've got world-class players but we've obviously also got young players who are coming through, so that's very good for the club."
One of those world-class players is Luka Modric but Sigurdsson accepts it is unlikely he will get to line up alongside the Croatian as Spurs chairman Daniel Levy continues to negotiate his sale.
"He's a world-class player but when you're a top-class player you're going to be linked with other clubs, and he's probably going to one of the biggest clubs in the world," said Sigurdsson.
"If that's true then I'm sure the club will bring someone in, but it's probably not for me to comment on. I wasn't here when he was here but I know he's a fantastic player and he's done really well for the club."