Ferdinand - Losing was madness
Rio Ferdinand insists Manchester United will never repeat the 'madness' of their dramatic title collapse.
Last Updated: 25/07/12 9:59am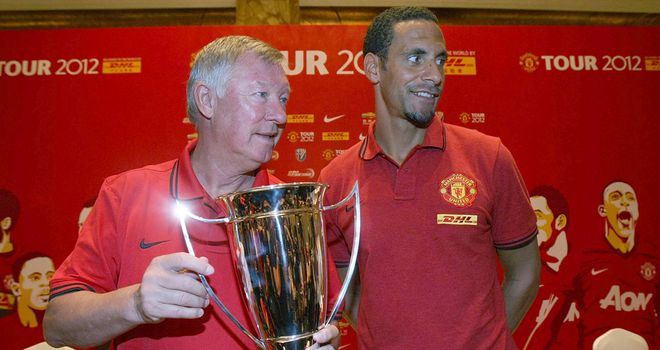 Rio Ferdinand insists Manchester United will never repeat the 'madness' of their dramatic title collapse.
United let slip an eight-point lead with just six games remaining - allowing rivals Manchester City to win their first league title in 44 years on goal difference.
While the 33-year-old centre-back acknowledges City's achievement, he feels his side had the Premier League title in their grasp and threw it away.
Ferdinand told The Sun: "Fair play to City. You've got to be a good team to win the league, so I wouldn't take anything away from them.
"But if you gave us the last few games of the season and put us in that situation again, it wouldn't happen. It was just madness.
"That's down to us, though. We take full blame for it and don't look to anyone else."
Although the title was effectively out of United's hands at Sunderland on the final day of the season, they were still forced to cope with the bitter blow of losing the league in injury-time.
City struck twice against QPR in a matter of moments to snatch the trophy and Ferdinand believes it was a harsh lesson that the youngsters in Sir Alex Ferguson's squad can learn from.
Learn
He added: "You think to yourself that the young players will learn from last season.
"We would rather have won the league but it's a valuable experience that I'm sure they'll learn from because that feeling in the dressing-room after the Sunderland game isn't one you want too many more times in your career, if any.
"The manager just said, especially to the young players in the dressing-room, to take on board what had just happened and learn from it.
"I remember when I first came to United and we lost the League Cup final to Liverpool.
"It was my first-ever final and the game just kind of passed me by because it can go that quick.
"If you don't grasp the moment with both hands, there will be other similar opportunities that go amiss.
"So all through my career I've thought 'That can't happen again' and, when you get those big games, you've got to make sure you're ready and push yourself and your team-mates on as well."
Ferdinand's career seemed to be in decline going into last season as he battled a series of long-term injury complaints.
Ferguson even suggested that the experienced defender was no longer an automatic first-choice ahead of Jonny Evans, Phil Jones and Chris Smalling.
But the England international played 30 Premier League games in the 2011/12 campaign - more than he had in any of the previous three seasons - and Ferdinand is not ready to step aside for United's young hopefuls just yet.
Obstacles
"There are always obstacles that are put in your way in your career," he said.
"Sometimes the manager says and does things for a reaction but top players normally react in the right way and I would like to think I have done that.
"I played more games last season than I had for the previous couple of years.
"Careers aren't there to be easy and for everything to fall into place. You have to work hard in order to achieve things.
"I like challenges and as a footballer you need to embrace them, then go out there and perform. Hopefully that will make it difficult for the manager to leave you out.
"Obviously people see my career ending in the next two or three years and the manager has to plan for the future.
"But I have to prove to him that I can continue playing and the youngsters have to prove they are worthy of a place."
Ferguson has already indicated that Ferdinand will be offered a one-year rolling deal at the end of the season and the former West Ham and Leeds man is relaxed about that situation.
He added: "Nothing has happened yet and I don't see it happening until at least after January because that is the way the manager works.
"I am not a special case because I am Rio Ferdinand. Hopefully the manager pulls me aside and says 'I want you to continue playing here' because I love playing for this club and love being here.
"We always get challenges at United, that's been the case since before I arrived. Now, the challenge is City and we have to rise to that."