Gibson hungry for goals
Darron Gibson has vowed to throw off the shackles this season in a bid to grab more goals for Everton.
Last Updated: 30/07/12 10:01am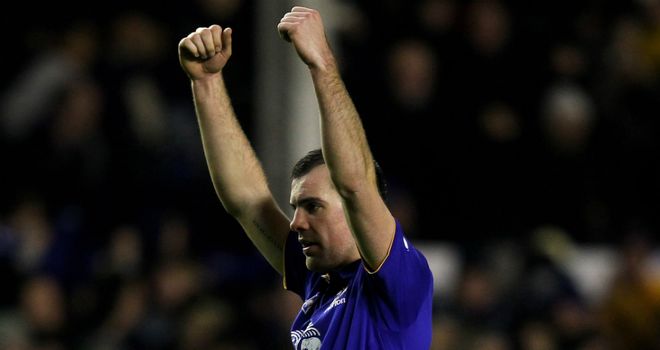 Darron Gibson has vowed to throw off the shackles this season in a bid to grab more goals for Everton.
The 24-year-old joined David Moyes' side in January with a reputation as a midfielder with a howitzer of a shot.
Since his switch, though, the way the Republic of Ireland midfielder has grown in to an anchor role in the centre of midfield has surprised many at the club - including himself.
His eye-catching performances played a big part in the way the club finished the season strongly as they have yet to lose a Premier League a game in which he has played.
And the midfielder would like to continue that run against his old club Manchester United on the opening day of the season.
"More goals would be my main aim," he said in the Liverpool Echo. "Obviously just to keep the performances going and hopefully the team can finish higher than last year.
"I was expecting to play as a box-to-box midfielder when I came across. The anchoring role just seemed to happen that way.
"It is not a role I have been given, it is just what has happened in the games, but like I said before hopefully I can do a bit more next season.
"It does seem to be working as we have not lost in the Premier League since I came here but obviously that is not all down to me."
Nerves
His only goal since his move was the winner against eventual champions Manchester City in a thrilling game at Goodison Park two weeks into his Everton career.
Although he did not add any more last season, Gibson admits the strike proved to be a turning point for him as his performances improved as a result.
"The first few games I probably wasn't as good as I was in the last few games," he said. "But the goal against City settled my nerves a bit, got me into my stride and playing well - it did settle me down.
"I expected to get some games but I didn't expect to start every game I was fit and available for, which I was delighted with.
"Obviously when I came in the team was on a roll, everyone was playing well and it helped me out a lot. So hopefully we can keep going from the way we played last year."