Bellamy's Team GB fears
Craig Bellamy fears we will never see a second Team GB even if Stuart Pearce's men secure a place on the podium.
Last Updated: 01/08/12 2:59pm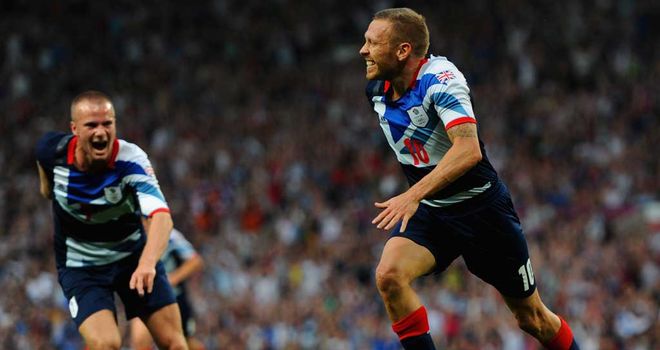 Craig Bellamy fears we will never see a second Team GB even if Stuart Pearce's men secure a place on the podium.
They face on Uruguay in Cardiff on Wednesday evening knowing they only need to avoid defeat to make to through to the last eight.
The formation of the team was surrounded in controversy with players from Scotland and Northern Ireland warned off joining up by their national associations for fear of risking their countries' separate identities in world football.
Pearce eventually picked his squad from just English and Welsh players even though the celtic governing bodies could not have stopped their players from taking part.
But Bellamy fears the political obstacles that threatened this squad will not ease over time and therefore the whole notion of British football team will be shelved.
"I am sure it would be beneficial and I would love to see it happen again," he said.
"From my own experience, it has been outstanding, one of the best experiences I have had as a footballer.
"But I this is probably the last time it will happen, which would be a shame."
Bellamy has been a revelation so far in the games but is unlikely to start against Uruguay as Daniel Sturridge is rumoured to be replacing him in the starting line-up.
The Chelsea man is believed to have played himself back into the first XI after coming off the bench to score the final goal in their 3-1 win over UAE on Sunday after starting in the first game against Senegal.
And singing the anthem again will be an emotional moment for the young striker who feared his Olympic adventure was over before it even started after a pre-tournament meningitis scare.
"I am getting there but I am still not 100 per cent," said Sturridge. "Basically I am a week behind the rest of the lads in terms of fitness because they had a week of pre-season when I was at my club.
"Also I have lost a bit of weight but I am getting fitter. This was the centre-piece of my summer and I was more than a bit concerned about missing it.
"It was the right stage to show what I am capable of. A week after contracting meningitis, I was unsure whether I would be coming or not.
"At that stage I certainly felt worse than I thought I would. Thankfully, as time went on I improved, although there were only a couple of days to go before we made the decision to go for it."