Muamba plays on holiday
Bolton midfielder Fabrice Muamba took part in an impromptu game of football just two months after his cardiac arrest.
Last Updated: 03/08/12 7:56am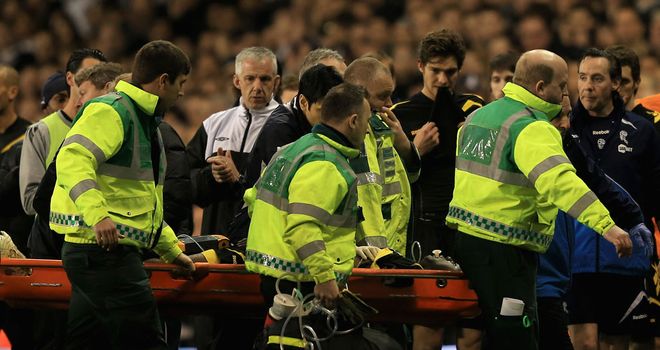 Bolton midfielder Fabrice Muamba's recovery from a cardiac arrest has made another incredible step forward after he revealed he has taken part in an impromptu game of football.
Muamba was rushed to the London Chest Hospital and doctors took 78 minutes to restart his heart following his collapse in an FA Cup game at Tottenham in March.
The 24-year-old has made a remarkable recovery since then but it is still not known when, or if, former England Under-21 international will be able to return to professional football.
However, Muamba revealed to CNN that he played some football while on a summer break with his fiancée, Shauna Magunda, in Dubai in May.
"I was on holiday and I was staying in a hotel and there were quite a few footballers in the hotel as well. The staff of the hotel usually play against the visitors so I was by the pool and I heard they were playing football," he said.
Fantastic
"Then I went across and saw other footballers playing and I told my friends and Shauna - I told her, 'I am sorry but I am going to play football'. She goes, 'are you sure?' and I say, 'yes' and I just went in there."
Asked if his fiancee said it was ok, Muamba added: "Yeah, yeah, yeah but she was scared. I just went in through the groove and played for about 20-25minutes.
"It was just playing like normal, it was just playing like I was training. It was great, I enjoyed it.
"I never tweeted the pictures out to anybody but I am talking to you guys, so you guys have the best news out of everybody!
"So it was just to get back into the groove and to get back into momentum, it was just great but I just hope to God that I can get in there myself, with the 11 players on the pitch and to play would be fantastic."