Samaras fitness boost for Bhoys
Georgios Samaras has been given the all clear to face HJK Helsinki in Finland on Wednesday night after recovering from a facial injury
Last Updated: 07/08/12 3:43pm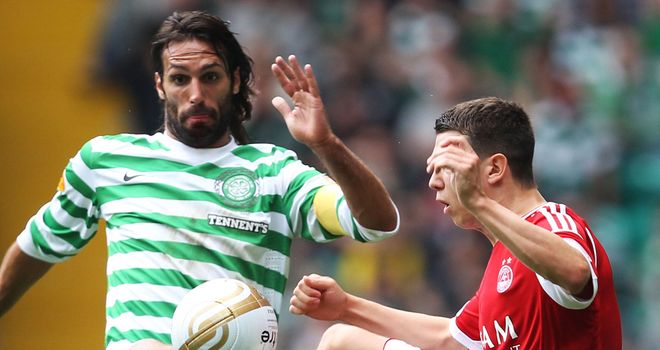 Georgios Samaras has been given the all clear to face HJK Helsinki in Finland on Wednesday night after recovering from a facial injury sustained at the weekend.
The Greek forward was left dazed and bloodied after taking a knock to the head in the 1-0 win over Aberdeen on Saturday.
He was replaced by Kelvin Wilson ten minutes after the break to allow the medical staff to patch him up.
And while Hoops boss Neil Lennon is pleased to have the 27-year-old striker back he is less certain on the fitness of skipper Scott Brown and winger James Forrest for the second leg of Celtic's Champions League third qualifying round match.
"Georgios will be fine," confirmed Lennon ahead of the tie, with Celtic leading 2-1 from last week's first leg.
"We will see how James and Scott are this evening. They are still a little bit stiff and sore.
"We are giving them as much time as we can, and maybe even give them until tomorrow afternoon.
"I think there has been a significant improvement in both of them over the last couple of days.
"Having spoken to the medical team, yes (Brown's chances are good). Scott likes to play even when he is not 100%.
"He is such an important player for us but because it is such an important game, we can't take too many chances.
"And it is still so early in the season as well. We don't want to lose him if we push him too hard, too early."