Iniesta welcomes back Villa
Andres Iniesta is backing David Villa to bring the glory days back to Barcelona after returning to training.
Last Updated: 07/08/12 4:58pm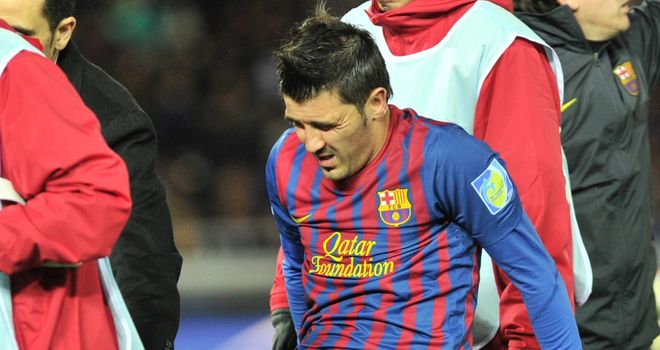 Andres Iniesta is backing David Villa to bring the glory days back to Barcelona after returning to training.
The Spain striker has been out for eight months following a leg break playing for the Catalan side at the World Club Challenge in Japan in December.
It cost Villa, Spain's all-time record goalscorer with 51 goals in 82 appearances, his place at Euro 2012.
His country went on to win the competition without him but the price for his club has been higher.
Since his injury the Spanish side have lost their domestic league title to fierce rivals Real Madrid while Chelsea replaced them as European champions.
Last season was not entirely a write off with regard to trophies as they won the Copa del Rey with a 3-0 win over Athletic Bilbao as manager Pep Guardiola signed off his time in charge in style.
Goals
And with the start of the new season just weeks away Iniesta has welcomed Villa back with open arms and is hoping his goals will earn more silverware for the club and their new manager Tito Vilanova.
"He looks great to me considering he's been injured for so long," Iniesta said of Villa on the club's official website.
"It's lovely to see him training because he's such a fundamental player and we hope it won't be long before he's back doing what he does best - scoring goals.
"The manager has changed, but the main responsibility still lies with the players. It's our responsibility to give everything to keep this working.
"The key to everything has been finding the right balance and we have all gone in the same direction, not just the players but everybody around us.
"Although we've been together for a few years, his (Vilanova) responsibility isn't the same anymore.
"At this club we always demand the very best possible, this year the same as any other. The important thing is for the team to be as hungry as ever."
The Barcelona players will get their first chance to bag a piece of silverware and gain revenge over Real when the pair clash in the season opening Super Cup in two weeks.
"We treat them as very important, although they won't decide the season. But whoever wins will gain more confidence," added Iniesta.