McCammon awarded over £68,000
Mark McCammon, who was unfairly sacked by Gillingham after suffering racial victimisation, has been awarded over £68,000 in a legal victory.
Last Updated: 11/08/12 3:54pm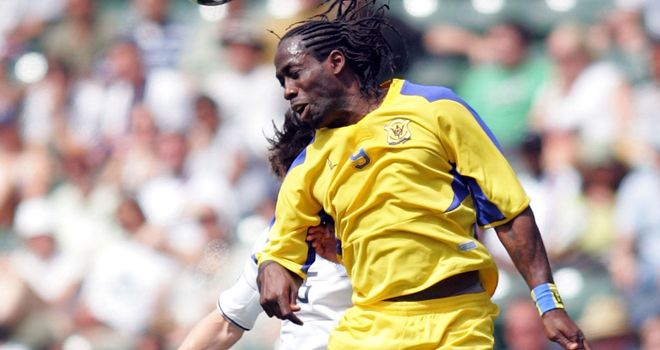 Mark McCammon, who was unfairly sacked by Gillingham after suffering racial victimisation, has been awarded over £68,000 in a legal victory.
The sum of £68,728 handed to McCammon at a remedy hearing follows the tribunal's judgment last month and includes loss of earnings and breach of contract, his solicitor, Sim Owolabi, said.
Striker McCammon, 33, brought the race victimisation case - believed to be the first of its kind against a British football club - after being dismissed for alleged misconduct last year.
The former Barbados international told a four-day hearing in Ashford, Kent, in June that he had been put "through hell" at League 2 Gillingham as he was treated differently from white players.
The club strongly denied his claims and said they were "staggered" by the judgment in his favour as they had employed thousands of staff of different races without complaint.
As part of his case, 6ft 2in McCammon said he was ordered to come into the ground amid "treacherous" winter driving conditions while some white players were not required.
The player, who signed for the Gills in 2008 on £2,500 a week, also said the club tried to "frustrate him out" by refusing to pay private medical bills to help him regain his fitness following injury.
Instead, he claimed he was offered the same operation on the NHS rather than privately, a move he described as "completely out of character" for a Football League club, and that he was fined two weeks' wages when he visited a private consultant.
In contrast, the former Charlton, Swindon, Millwall and Brighton player said a white team-mate was flown to Dubai for treatment by an eminent physiotherapist at the club's expense.
In a letter sent to the Professional Footballers' Association (PFA) outlining his grievances, McCammon also claimed he was told not to blog while others were permitted to do so.
Dubai-based Gillingham chairman Paul Scally described McCammon's race claims as being made "maliciously and without foundation".
The events which led up to McCammon's dismissal were triggered on November 30 2010 when south east England bore the brunt of heavy snowfall.
On that day, McCammon said he and two other black players - Josh Gowling and Curtis Weston - were told to make the four-mile drive from the house they shared to the club's medical rooms.
Later, McCammon said one of them received a text message threatening to dock them two weeks' wages unless they made it to the stadium by midday.
When he arrived at the club, McCammon said he headed to manager Andy Hessenthaler's room to confront him about being "racially intolerant" over the decision to order them in.
He claimed that Hessenthaler reacted angrily.
McCammon was subsequently ordered to attend a disciplinary hearing and later received a letter saying he was dismissed.
The forward said that, after leaving the club, Gillingham "were effectively campaigning covertly" against him by trying to sabotage his career.
Strong interest was shown by 11 clubs but talks with all collapsed, often at a late stage.
"It soon became known that the chairman had been interfering," McCammon said in his witness statement.
"My agent was told by other agents that the job he was doing was an impossible one as they were aware that GFC were effectively campaigning covertly against me with the intention of sabotaging my career."
There was no immediate comment from Gillingham but Mr Scally indicated on Thursday that they may appeal against the judgment, which he described as "bizarre".
He told BBC Radio Kent: "We're talking to lawyers this week and we'll make a decision in the next few days.
"It was such a bizarre, extraordinary and wrong decision, in my view, that it affected everyone in the club."
He refuted claims that the club was racist, adding: "We know we are an equal opportunities employer and we know we have no issues with black people, white people or any nationality, race or creed.
"That's all that really matters and I think the people that love this club and support it know equally."
McCammon's solicitor said there would be no comment on Friday night but that he may release a statement over the weekend.