Toure praises strikers
Yaya Toure feels the return of Carlos Tevez means Manchester City can score even more goals this season.
Last Updated: 14/08/12 9:30am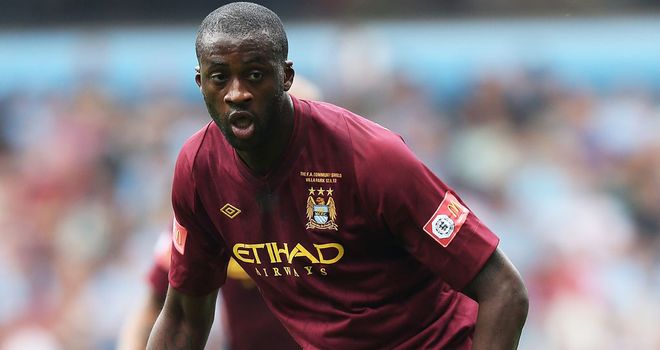 Yaya Toure feels the return of Carlos Tevez means Manchester City can score even more goals this season.
City put three goals past Chelsea in Sunday's FA Community Shield triumph, with Tevez signalling his return to full fitness with a stunning strike.
His growing partnership with fellow Argentine forward Sergio Aguero indicates there could already be more fluency about the champions this season.
And with Mario Balotelli having enjoyed an impressive European Championship with Italy as well as the presence of Edin Dzeko to call upon, Toure believes City will have another successful season.
"We have some fantastic strikers," said the 29-year-old midfielder.
"They are so sharp and clever. We put Carlos and Aguero there against Chelsea but it could have been Dzeko or Mario.
"The most important thing is that no matter what team the boss picks, it plays well."
Professional
City scored 93 times on their way to a first title in 44 years last term but had to do it without Tevez for much of the season following his well-publicised spat with Mancini in Munich.
If the club's title rivals are hoping that the former Manchester United forward will be causing more internal unrest they could be set for disappointment.
Asked if Tevez was popular within the dressing room, Toure said: "Of course, he is a fantastic guy and a fantastic professional.
"He made a mistake. But the most important thing when you make a mistake you have to apologise. He apologised to everyone.
"Now he has come back and wants to show he will give everything for the team.
"His partnership with Aguero is fantastic. They have played for Argentina before. Now they play for Manchester City.
"I am sure they will score a lot of goals for the club."
Europe
While last season was a successful one domestically, there was the disappointment of exiting the UEFA Champions League at the group stages and that is something Toure is keen to address.
"That is very important," he added. "We want to take this team as far as it can go, so in the Champions League it means making sure we reach that second round.
"I had two seasons at Barcelona. In the first one I went to the semi-final. In the second we won it against United. Hopefully that experience will help.
"We have a lot of confidence. We have a fantastic squad, with a fantastic manager. I am sure we can go a long way."