Lambert eyes Ireland revival
Aston Villa manager Paul Lambert admits he is looking forward to trying to bring the best out of playmaker Stephen Ireland.
Last Updated: 17/08/12 4:27pm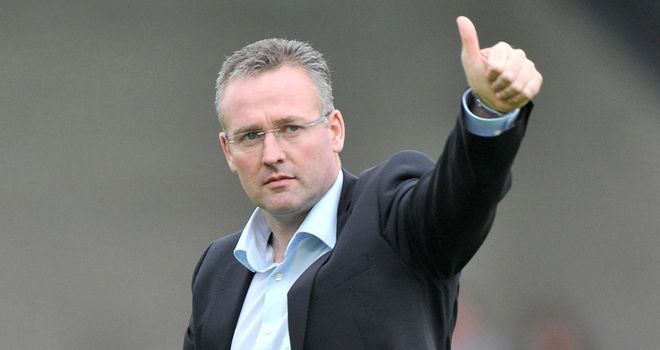 Aston Villa manager Paul Lambert admits he is looking forward to trying to bring the best out of playmaker Stephen Ireland.
The midfielder was voted the fans' player of the year last season at Villa Park in which the club finished just two points clear of safety in 16th place, resulting in former boss Alex McLeish losing his job.
The 25-year-old former Manchester City man has struggled to tie down a regular starting spot since joining the West Midlands club in the summer of 2010.
But Lambert is confident that Ireland can start to show his true talent this season by performing on a more regular basis.
The Scot said: "He is a really talented footballer. From the day I walked in here, I thought he is a talented footballer.
"For some strange reason, he has found it difficult here the last couple of years.
"It is up to me to get the best out of him to see if he can perform."
Big players
Lambert hopes Ireland can link up effectively with striker Darren Bent who is back to fitness after missing the final third of last season - and Euro 2012 - with an ankle problem.
He said: "You look at the two names (Bent and Ireland) and the careers they have had, and they are big, big players.
"We have to try and utilise them the best.
"Darren has done alright, he's done really fine. He missed a lot of football because of his injury but he is a goal threat.
"Everyone on the planet knows he can score and hopefully if he is playing, everything goes well for him.
"I saw the injury when it happened and Villa really missed him when he went out injured.
"It is a big bonus to have him back. I knew he was a top goalscorer, he'd done it for England and had a great time for Villa here.
"There is a lot on his shoulders but there is a lot on everyone's shoulders. You can't rely on one person."
History
The former Norwich boss is striving to bring the good times back to Villa after two seasons of underachievement under Gerard Houllier and McLeish and admits Villa's history 'raises the bar' in terms of what is expected from his first season in charge.
"The history of Villa, that raises the bar because of that side of things and the expectancy level," he said.
"When you go to any club it's hard. It's not an easy job, football management, and Norwich was tough to turn around.
"But Villa is a huge club and I can't wait for the season to start now, the atmosphere, the adrenalin rush, and trying to win as many games as we can.
"We have to hit the ground running and that is what we will try and do. You have to be ready. There is no turning back now."