Kompany talks up team spirit
Manchester City skipper Vincent Kompany believes his team have proven that belief in the camp is stronger than ever.
Last Updated: 20/08/12 4:49pm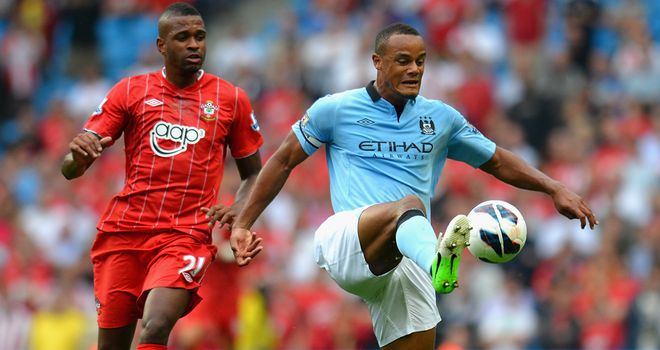 Manchester City skipper Vincent Kompany believes his team have proven that belief in the camp is stronger than ever.
The Premier League champions needed to come from behind against newly-promoted Southampton to get their title defence off to a winning start at the Etihad Stadium.
The 3-2 success followed a similar pattern to the dramatic victory over QPR on the final day of last season and indicates that City are always confident of getting the result even when behind.
Kompany feels that's a testament to the character of the squad.
The 26-year-old told City's official website: "We have always proved to be very difficult to beat at home.
"Maybe we will just get belief out of this. Maybe that is why we always keep coming back and it never seems to be finished.
"I don't even need to say it loudly. Last season proved how crucial it (team spirit) was for us, in the last games. We showed we wanted it as much.
"It doesn't matter if we have our best game or our worst game, we just keep going.
"As much as I can say we have a lot to improve on still, I can also say we can really all be happy because of great qualities of character."
Turnaround
City missed an early penalty through David Silva but went in ahead at the interval thanks to a Carlos Tevez strike.
The game was turned on its head when Saints substitutes Rickie Lambert and Steven Davis found the net, but City recovered in the final 20 minutes as Edin Dzeko and Samir Nasri struck.
Kompany added: "If everything had gone to plan we would have scored two or three goals before they even got their first.
"We missed a few chances and they used the one opportunity they had very well and the game became very difficult, but I am very happy about the reaction of the team. That is what we needed to see.
"Therefore we are very happy with the win and the result. We have to respect Southampton, they played really well. It is a good result for us."
Injury
An early injury to Sergio Aguero put a slight dampener on things for Roberto Mancini's men but Kompany in confident the team would cope despite the Argentine forward's undoubted class.
The Belgium international said: "Sergio is an outstanding player so if you don't have him with you then that would be a blow.
"But last season we went a huge part of the season without Carlos and we managed to cope.
"We hope we don't have to miss him but if it does happen we have enough players who can step up to the plate like Edin did by scoring a very important goal."