Harry exit surprised Assou-Ekotto
Tottenham left-back Benoit Assou-Ekotto admits he was very surprised by Daniel Levy's decision to sack Harry Redknapp.
Last Updated: 27/08/12 9:15am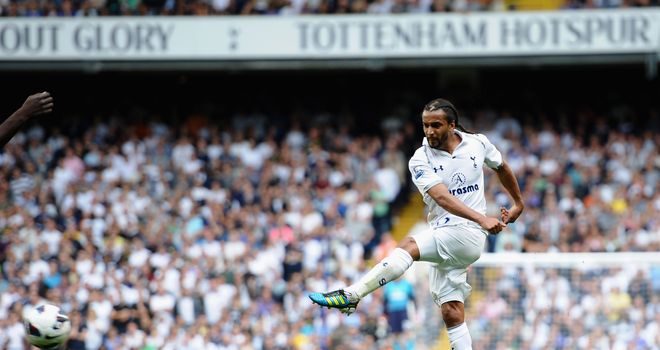 Tottenham left-back Benoit Assou-Ekotto admits he was very surprised by Daniel Levy's decision to sack Harry Redknapp.
Spurs chairman Daniel Levy took a huge gamble this summer by sacking Redknapp - a man who had delivered fourth, fifth and fourth place finishes during his time as White Hart Lane boss.
Levy replaced the 65-year-old with Andre Villas-Boas, who has made a slow start with one loss and a draw to date.
Assou-Ekotto appears convinced Villas-Boas has the credentials to succeed at the North London club - but conceded it was surprising to hear Redknapp had been dismissed.
Shock
"I was very surprised," Assou-Ekotto said. "I was surprised because I don't think there are a lot of managers who finish fourth and they are sacked."
Assou-Ekotto offered two almost contrasting viewpoints on Villas-Boas on Saturday.
In one interview the Cameroon international, who scored Tottenham's opener in the 1-1 draw against West Brom, hailed the Portuguese's tactical nous and described him as "like the son of Mourinho".
But then in another interview when Assou-Ekotto was asked whether he liked working under the new manager, he said with a smile: "Hmmm, I play, so yeah, he is good for the moment."
Jermain Defoe, Rafael van der Vaart, Gareth Bale and Aaron Lennon all spurned chances for the home side on Saturday before Assou-Ekotto broke the deadlock with a deflected half-volley.
Villas-Boas packed the midfield shortly after, hoping to stifle a resurgent West Brom, but his efforts proved in vein as James Morrison swept home from inside a packed box to steal a point for Steve Clarke's men.
Despite the club's faltering start, Assou-Ekotto is convinced Spurs can finish in the top four this term.
"Yes we can finish in the top four because we finished fourth last season and we haven't changed much from then and maybe we will have one or two new players in too," he added.
"We also have new players with (Gylfi) Sigurdsson, (Jan) Vertonghen and (Emmanuel) Adebayor, and we know Adebayor."
Fourth would have normally been good enough for a place in the UEFA Champions League but, unluckily for Spurs, Chelsea's triumph in the 2012 final in Munich meant the north London club had to settle for Europa League football this season.
Prayer
Assou-Ekotto admits it was agonising to watch the Blues come from behind to beat Bayern Munich on penalties, but accepts Spurs should have finished third after throwing away a 13-point lead they had over Arsenal.
"I was about to make a prayer that (Didier) Drogba would miss his penalty," Assou-Ekotto said.
"But I was happy for him. In the season we were 13 points in front of Arsenal and we can't think that we missed the Champions League because of Chelsea.
"I think we made a few mistakes in the league last season because it is obviously not normal to finish behind Arsenal when we were 13 points ahead of them."