Martinez excited by Boselli
Wigan boss Roberto Martinez believes Mauro Boselli is finally ready to make an impact in English football.
Last Updated: 29/08/12 7:34pm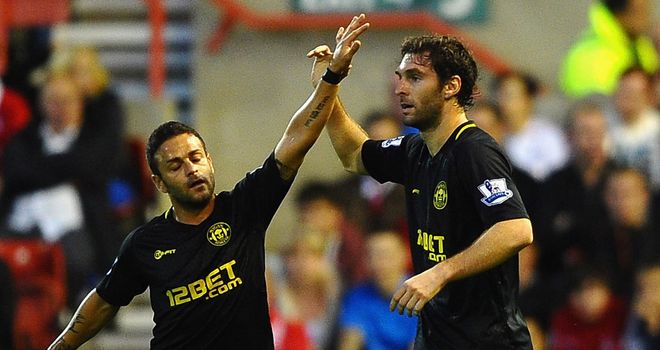 Wigan boss Roberto Martinez believes Mauro Boselli is finally ready to make an impact in English football.
Boselli is back at Wigan after 18 months out on loan at Genoa and Estudiantes.
The Argentine found it difficult to establish himself at Wigan after arriving from Estudiantes in the summer of 2010.
However, Boselli marked his first start of the season in Tuesday's Capital One Cup win over Nottingham Forest with the opening goal in the 4-1 victory at the City Ground.
Martinez was impressed by Boselli's performance against Forest and feels he is now ready to prove his true worth to the side.
"We are very, very exited about Mauro," Martinez said.
"Mauro had a difficult period in the previous two seasons but mentally he's come back really refreshed and I think his experience in Argentina has helped him to be desperate to come to Wigan Athletic and be successful.
"What we saw [against Forest] he's been doing in pre-season. He's been scoring in every game he's played. His movement in the box is of someone very special in front of goal.
"A typical goal-scorer needs to get an advantage into a defender and probably what Mauro does really well in that box is he comes alive.
"He sees that space and obviously you need good service. I thought Ronnie Stam's ball was outstanding, but you always need goal-scorers and a goal-scorer is precious.
"I think he's happier now than he's ever been in the previous pre-seasons. I see him now with a bit of light in his eyes.
"He's desperate to work hard for the team and have an opportunity in the league. Nights like that help him towards achieving that."
Settled
Martinez puts Boselli's transformation down to a more mature outlook and greater stability in his life off the pitch.
"Two years ago he came to the unknown," the Wigan boss said. "I know previously he went to Spain for a short spell but when he came back from Argentina two years ago it was a difficult transition.
"I thought it was very difficult for him to settle into not only the British game but British life as a whole.
"Now I think he's different. He knows exactly what he was coming to and he was desperate to make it work and that really helps.
"His family has settled, he became a dad in the summer and all of sudden, when you've got the stability around your football that really helps to face any challenge.
"I think Mauro is really mature now. I don't think we've seen a Mauro Boselli in the past where he's able to be himself in our league."