Hart hungry for caps
Joe Hart is taking nothing for granted but admits he plans to be England No 1 for a long time.
Last Updated: 02/09/12 11:51am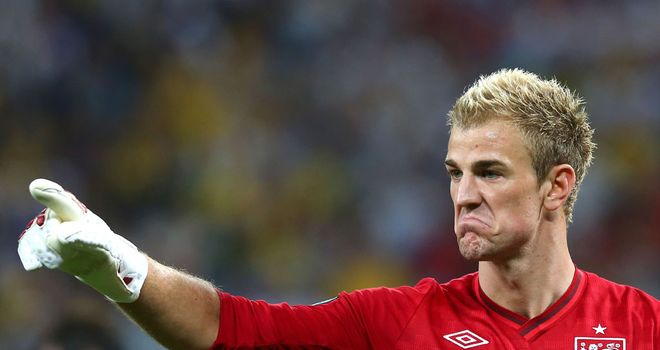 Joe Hart is taking nothing for granted but admits he plans to be England No 1 for a long time.
The Manchester City goalkeeper already has 22 caps for his country and has firmly established himself as one of the key players for the national team.
Although the 25-year-old still has a marathon journey ahead if he hopes to reach Peter Shilton's record of 125 caps, he has no intention of retiring prematurely from international football.
"Retirement is certainly not something I am considering right now," said Hart, quoted in the Daily Star.
"You never know how your body changes but if I stayed in perfect physical shape, who knows?
"There are a lot of reasons why people quit international football. Some struggle off the field. Some struggle with injuries.
"That is their decision. But at the moment if my life stays the same as it is, which hopefully it will, I can't see that happening.
Great feeling
"I will try to give it everything for my country. I would love to get to 23, then 25 and 30 caps. They are things I love to do every time I line up. It's a great feeling.
"Goalkeepers can have a long career and right now I'm enjoying my role in the England squad. I want to make it last.
"It's nice now for people to say that I could be England's keeper for the next ten years but plenty of people won't agree.
"I know how quickly things can change in football and I am only where I am because someone else lost their place.
"Nothing is a given, especially when you see the standards in the two sides I play for, City and England.
"I play for one of the best club sides in England who want to be one of the best sides in Europe. And England as a nation are one of the best countries about.
Choices
Hart's chances of enjoying an extended run as England's goalkeeper are aided by the fact that there are so few choices for national team boss Roy Hodgson.
Norwich's John Ruddy and Southampton's 35-year-old stopper Kelvin Davis are the only other English keepers playing regularly in the Premier League who are available for selection.
And Hart acknowledges it can be difficult to get an opportunity in such a high-profile league.
"It is hard to get a chance in the Premier League for an English keeper," he added.
"Clubs look all across the globe for keepers so it's tough. It's easier in other leagues as they don't have that pulling power.
"Unfortunately that is just the way it is, although I have been lucky at Manchester City."