Diaby - Don't call me Song
Abou Diaby does not want to be classed as an Arsenal replacement for Alex Song and instead compares himself to Yaya Toure.
Last Updated: 03/09/12 4:48pm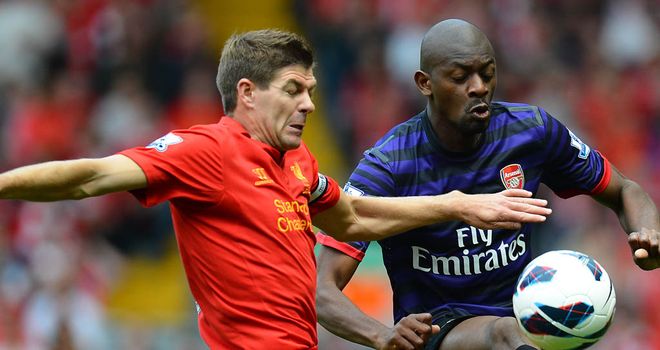 Abou Diaby does not want to be classed as an Arsenal replacement for Alex Song because the Frenchman thinks he has more in common with Manchester City star Yaya Toure.
Diaby has started all three of the Gunners' Premier League matches this season following a year blighted by injury.
The 26-year-old was magnificent in Sunday's 2-0 defeat of Liverpool, controlling the midfield alongside Mikel Arteta to finish as man of the match.
While touted as the perfect replacement for Alex Song, who in August was sold to Barcelona, Diaby insists City powerhouse Toure is a more accurate comparison.
"In our teams, Yaya Toure and me have very similar roles," he said.
"I am not like Alex Song. We have many players who can take his place like Francis Coquelin or Mikel Arteta, who likes to play deep. I want to get forward - that's me.
Loyalty
"I have defensive duties as well so I need to have a good shape defensively and, as soon as we get the ball, go forward."
Diaby was signed from Auxerre for £2million in 2006 but has yet to realise his potential at Emirates Stadium thanks to a terrible injury record.
Ankle, calf and thigh problems have resulted in long spells in the treatment room and he made only four substitute appearances in the Premier League last season.
The loyalty of Arsene Wenger never waned and now the France international, who has been recalled for this week's World Cup qualifiers, is determined to repay the faith shown by Arsenal's boss.
"I have to thank the manager because I have had tremendous support and as a player it is really important to have that support," he said.
"Support from your team-mates as well - I have to say that during this period, they helped a lot.
"I want to enjoy myself because I love football and to pay back the club, manager and team-mates as well.
"Mentally it was a hard time but I love football. Football is my passion so it doesn't matter what happened, I need to look forward and that is what I have done in this situation."