Everton defender Leighton Baines in dark over Manchester United's reported interest
Everton's Leighton Baines claims he heard nothing from Man Utd over the summer despite being linked with the club.
Last Updated: 26/09/12 2:52pm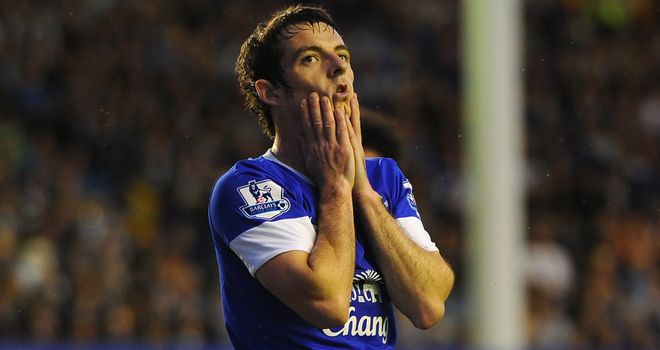 The England left-back has long been tipped for a move to Old Trafford but was still a Toffees player when the latest transfer window closed last week.
Reports suggest Sir Alex Ferguson made tentative enquiries over the 27-year-old earlier in the window before being put off by Everton's asking price.
But Baines insists he was in the dark over United's apparent interest and does not believe the speculation held much weight.
Puzzled
He said: "People were asking me and yet I didn't know anything. It was getting mentioned that often that I was getting puzzled by it and yet I'd heard nothing.
"As far as I knew, there was not a great deal in it."
While Baines remains happy at Goodison Park, the defender admits his ambitious nature means a spot in Europe and silverware is on his wishlist with Everton.
He said: "I've never been one to rock the boat. I appreciate the position I'm in in life and I love what I do.
"At the same time you do have to have that ambition because it doesn't last long and before you know it it'll be over.
"The ambition for Everton is to finish as high as we can and if we can build on what we've done so far we have a chance of getting back towards European football.
"The main thing in football at club level is the Champions League which is always going to be an aim and if you can do that it strengthens your chances at international level as well.
"That's one of the main ambitions and obviously to win a trophy at some point. We lost in a cup final a few years ago [the 2009 FA Cup final to Chelsea] and lost in a semi-final to Liverpool [FA Cup lst season] so we know it's not beyond us."
Bright start
The Toffees have started the season brightly, taking six points from their opening three games, and Baines believes manager David Moyes' achievement of keeping his key players on Merseyside over the summer could be important this term.
"Over the last few seasons, we've tended to lose one of our assets each summer, whether it be Joleon [Lescott], Mikel Arteta when he left, Steven Pienaar,'' he added.
"This season we've not only managed to keep the squad together but added really good players.''