Jose backs Modric to shine
Jose Mourinho has tipped new boy Luka Modric to become a firm favourite with the Real Madrid supporters.
By Lucas Brown
Last Updated: 07/09/12 12:12pm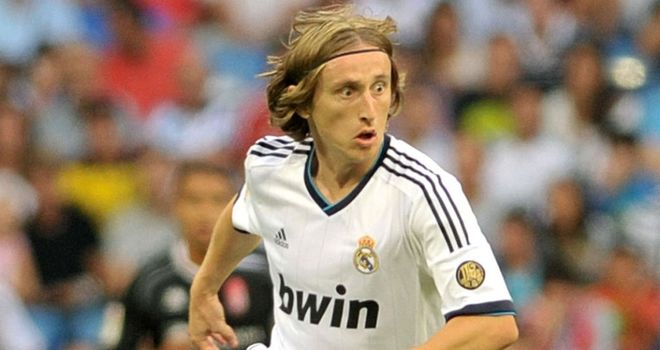 Jose Mourinho has tipped Luka Modric to become a firm favourite with the Real Madrid supporters and backed Kaka to take on the challenge of winning back his place in the side.
Los Merengues' coach explained that Modric was the Spanish clubs one main target throughout the summer and he feels that the Croatian has the ability to become a local hero after joining from Tottenham Hotspur.
"He was the only signing that we focussed on and we finally signed him which pleased me greatly," Mourinho told AS.
"I am sure that he will fit straight in to the squad and that the supporters here will really take to him. He has talent and tactical discipline in equal measure.
"Modric is a team player, who plays for the common good, and looks for and finds his team-mates.
"He also has a great touch, a bit of magic, that they will love at the Bernabeu. We signed Modric for Madrid because we will enjoy having him and he will help us win."
Kaka backing
While Mourinho signed a player he thinks will become a new star at Madrid, he reflected on the task facing Kaka after he was forced to stay at the club when no firm offers were made for his services during the summer.
"What has happened to Kaka has happened to many great players," Mourinho continued.
"Great players that for one reason or another have not been able to continue moving forward at their new clubs and improving their game
"Obviously, football is not mathematics and players are not robots. Kaka arrived with physical problems and that affected his first season here and he only played intermitently.
"In his second season he had to have an operation and was out of action for many months and he had to return bit by bit. Then last season he had his first complete year and he had some very good moments, like when [Angel] Di Mara was injured and he played on the wing.
"Like I said before that if the market closed and Kaka stayed then that would be no problem for Mourinho. He knows, because I have said this before, that his is not an easy situation because we have other options, but he has accepted the challenge.
"He is training well and when we can use him then we will use him and try to bring out the best in him. It will not be easy, but we have a fairly small squad of only 20 players and Kaka will have his chance."