On-loan QPR midfielder Joey Barton could make his Marseille debut in Europe
Joey Barton could make his Marseille debut in the Europa League match against Fenerbahce on 20th September.
Last Updated: 07/09/12 7:15pm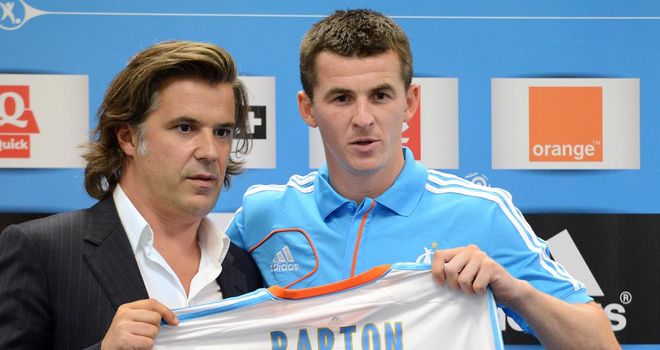 The French Football League confirmed on Thursday night the on-loan QPR's midfielder's 12-match suspension, imposed following his sending-off and subsequent misdemeanours on the final day of last season against Manchester City, will still apply after his move to France.
He served three of those games with Rangers prior to his move, leaving him with nine still to sit out in domestic competition and ruling him out until the 11th November trip to Bordeaux.
But he is available for the four European matches in the meantime, with Marseille taking on the Turkish side as well as Cypriots AEL and then Germans Borussia Monchengladbach home and away in Group C.
With less than two weeks to the first of those games in Istanbul, Barton faces a race against time to regain full fitness after his enforced lay-off.
Hard worker
Fitness coach Christophe Manouvrier told L'Equipe: "Because of everything he has had a 10-week holiday, so we have prepared a specific programme for him.
"But he is a hard worker, there is no need to push him.
"He could not play 90 minutes but the end of a match, yes. If the coach needs him against Fener, we will make sure he is ready."
Coach Elie Baup is leaving Barton's recuperation in the hands of Manouvrier and his staff and is keeping his personal focus on how best to eventually use Barton, with the former QPR captain likely to partner Benoit Cheyrou in a deep-lying central midfield pair.
Baup said: "I am only concerned with his playing time, how he sees the game and in what position he will be most useful.
"I think he will have most to offer in a role like Cheyrou in the right-sided central position."