Striker Michael Owen backed to bring 'winning mentality' to Stoke City by Rory Delap
Rory Delap believes Michael Owen will bring a 'winning mentality' to the Stoke City dressing room after his move.
Last Updated: 08/09/12 5:52pm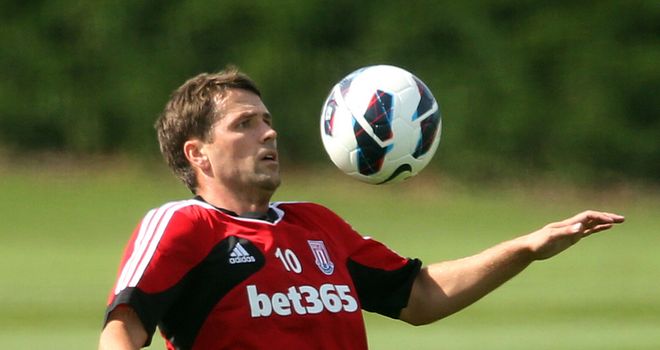 The former Manchester United, Newcastle, Real Madrid and Liverpool forward joined the Potters as a free agent this week after being released by the Red Devils at the end of last season.
Midfielder Delap is confident the experienced striker, who scored 40 goals in 89 appearances for England, can help Tony Pulis' side make the step up to the next level.
He told The Sentinel: "Michael has been at big clubs all his career and bringing that experience into the dressing room can only help.
"It's getting that winning mentality that all the big clubs have.
"Teams at the bottom of the table still want to win, of course they do. But it is a case sometimes of working out how to win."
And Delap believes Owen rates among the finest strikers to have graced the Premier League, with the forward remaining a threat in front of goal despite losing the explosive pace he was blessed with as a youngster.
"In terms of goalscorers, Michael Owen is up there with Robbie Fowler and Alan Shearer, and I would put Ruud van Nistelrooy into that category as well," he added.
"Shearer could score any type of goal while Owen and Fowler could pop up and nick a goal out of nothing. That sort of natural talent is hard to coach into someone.
"As for Michael Owen, he is so incredibly sharp. You think you are safe and are showing him away from goal, but then he can turn and score from nowhere. There aren't too many players with that ability.
"Also, there was his pace off the mark. He was up to full speed off a couple of strides. He has always been a yard ahead of people with his brain, not just his pace.
"He's a natural goalscorer and players don't lose that. They might lose a yard of pace, but that natural instinct to score goals will still be there."