Joe Hart is backing fellow England goalkeeper Jack Butland to enjoy a bright future
Joe Hart has been impressed by Jack Butland over the past few months and is happy to help his fellow England goalkeeper.
Last Updated: 09/09/12 9:58am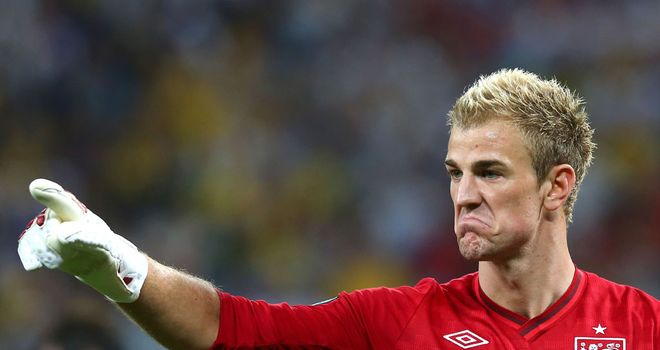 Hart is currently his country's undisputed No.1 but the emergence of Butland means there could be fierce competition between the two in the years to come.
Manchester City man Hart has no intention of stepping aside but will do all he can to assist Butland.
Having worked alongside the Birmingham youngster at Euro 2012 and watched him play for Team GB at the Olympics, Hart feels Butland is destined to reach the very top of the game.
"Jack's a great young keeper, I spoke to him throughout Euro 2012 and during the Olympics," Hart said in the Sun Sunday.
"He's a great prospect but he just needs to play now. To play in the Olympics at 19 is a great experience for him. He's got a massive future at the top."
Hart went to the World Cup in 2010 but the European Championship was his first major tournament as the first-choice keeper.
He added: "I loved the experience at the Euros.
"The next tournament can't come quick enough, I hope that was the first of many for me."
England's Euro 2012 campaign came to an end in familiar style as they lost on penalties against Italy in the quarter-finals, and Hart was disappointed that he was not able to do better.
He admitted: "I know it seems that England always go out on penalties but I didn't want that to be the case.
"I practised a lot but it's hard to recreate that game situation in a practice situation."