Phil Neville would welcome chance to extend Everton contract
Phil Neville says he would love to play in a different country but will stay at Everton if he is offered an extension.
Last Updated: 09/09/12 1:44pm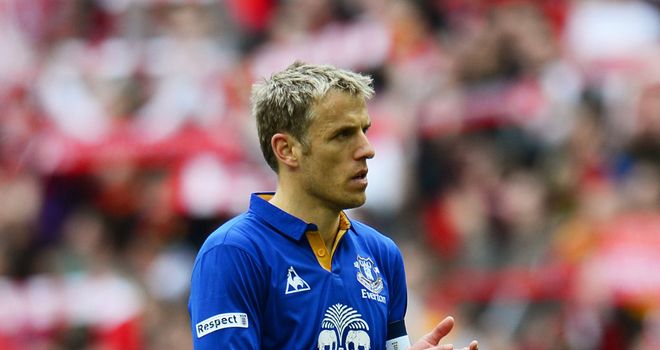 The 35-year-old's current deal expires at the end of the season and he is relaxed about the situation, despite being very keen to prolong his career.
Neville hopes he will be given the chance to agree fresh terms at Goodison Park, but if not he may pursue a new challenge away from England.
"I want to keep playing for as long as I can," the former Manchester United man, who moved to Everton in 2005, told The Independent.
"At least one more year at the top level if I can. I still have ambitions. For instance, I've always wanted to sample playing abroad, a different culture and different life-experience for all the family.
"Time's running out, I know, and if the gaffer [David Moyes] comes to me in January and wants me to stay another year then the decision's made for me."
Looking beyond his playing career, Neville has already decided that he would love to get more involved in coaching after his passion was ignited by a short stint working with the England Under 21s last season.
"I've always had long contracts in the past and coming to the last year you can be fearful, but I'm quite excited," he explained.
"The three days I had with the Under 21s were, well, life-changing. I really got the bug. My strength has always been in professionalism and preparation, and coaching is just an extension of that. It gave me a real insight into what I want to do.
"I've got my A licence now, I go to games and study methods and read a lot. I've always been into the fitness side, my [twin] sister's a conditioning coach so I tap into that.
"I'm a long way short of being a coach or manager but I'm trying to learn all aspects of it. I think some managers go into it under-prepared, and I don't want to be one of those."
Neville has loved his time with Everton but still feels they must strive for improvement and does not think finishing above Merseyside rivals Liverpool should be the sole aim.
"It's something that rankles with me, something I've not bought into at all," he said. "If one team finishes seventh and the other is eighth, you get the bragging rights but with nothing to show for it.
"Liverpool have been so successful over the years and Everton have had to swallow it. I totally understand that and I can relate to Evertonians when it comes to derby day, but how great it would be if we actually won a trophy.
"I'm not sure Liverpool have the same outlook. They probably look at the bigger picture, they want to win the league, the FA Cup and the League Cup, and that's the mentality we should have. Last year Kenny Dalglish won the Carling Cup and got the sack, so it shows what the expectations are."