Jon Walters believes new signings can drive Stoke City into Premier League top 10
Jon Walters believes the increased competition for places at Stoke will help drive Tony Pulis' side into the top 10.
Last Updated: 12/09/12 11:01pm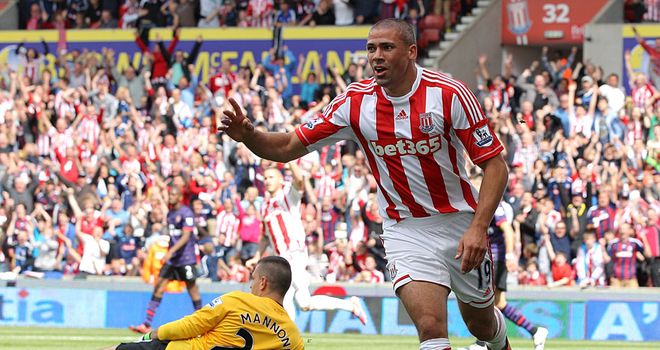 The Potters brought in a number of high-profile new faces, with Michael Owen, Charlie Adam and Steven N'Zonzi among the new arrivals.
Walters believes that the options now at Pulis' disposal will drive everyone in the squad to stay at the top of their game and lead to improved performances from the team.
"It's always good to have a battle on your hands to earn that spot in the team," he told the club's official website: "We have a very strong squad here now, and there are a number of players for every position.
"That can only be a good thing for the manager, because it gives him plenty of options coming into games and it also means that the players have to stay on their toes and keep producing the goods.
"I'm desperate to play matches, just as the other 24 lads are who are in the squad, but I won't be taking it as a given that I am in there.
"If I'm not performing then I know I will be sitting on the bench, so it's down to me to keep my place, and I will relish the challenge of trying to do that."
Stoke are now established in the Premier League and Walters believes it is time for the club to make the next step by securing a top 10 finish this term.
"We have a very good squad of players here now, with a great mix of experience and good young talent," he added.
"To have enjoyed the success we have done over the last few years has been incredible, so it is important to keep moving forward like we have done, and try to get in to the top ten for the first time.
"That is the target now, and with the players we have here, there is absolutely no reason why we can't achieve that. It won't be easy, but it is a realistic aim for us given the quality we have here."