Bentley keen to escape 'stigma'
Forgotten Spurs man David Bentley feels he has been tarred with an unfair reputation and is keen to escape that 'stigma' on loan in Russia.
Last Updated: 13/09/12 10:36am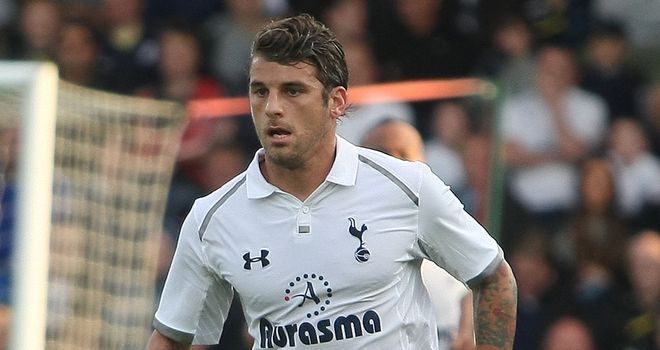 Forgotten Tottenham midfielder David Bentley believes he has been tarred with an unfair reputation in England and is keen to escape that 'stigma' on loan in Russia.
Bentley was rated as one of the country's bright young prospects when he arrived at Spurs from Blackburn in 2008 but after falling out of favour with former boss Harry Redknapp his career at White Hart Lane has rapidly diminished.
The 28-year-old midfielder, who has made just 42 appearances in four years with Tottenham and has not played for the club since November 2010, believes he has been unjustly portrayed as a troublemaker by Spurs and is looking forward to doing his talking on the pitch on loan at FC Rostov.
Stigma
He told the Daily Mirror: "I think there's a big stigma around me in England. The picture that Tottenham painted of me was so wrong.
"I've heard a lot of managers ringing players up and saying, 'I've heard he's trouble.' The players then tell me about it, but by then they had decided not to sign me.
"Someone had to be telling them that, because it's just not what I am like.
"It's time for a fresh start - get rid of those shackles and get away from England for a while to go to somewhere to be judged on what I can do on the pitch rather than something that's completely wrong about me."
Bentley admits to making mistakes in his career and says he regrets publicly declaring his desire to leave Blackburn ahead of his Spurs move.
He added: "I really regret leaving Blackburn the way I did. Coming out publicly saying I wanted to leave was a mistake. But so much has been said about me which is wrong."
Bentley believes his role in the infamous UEFA Champions League celebration, which saw several Spurs players tip a tub of water over former boss Redknapp live on Sky Sports after securing a European place in May 2010, proved costly to his career.
He said: "It was all good natured. But he definitely didn't see it like that. It was a celebration and nothing more.
"That season, I'd played 20 games up until that point and we got into the Champions League. I'd started 15 games in a row and, even though I didn't start that game, we were just celebrating a brilliant achievement.
"He never said anything to my face about it - he didn't really ever say much to me at all - but I knew I was always up against it after that. I hardly got another look-in."
The midfielder, who has spent time on loan at Birmingham and West Ham but has been hindered by injury, was disappointed not to be given a chance under new boss Andre Villas-Boas at Spurs but is relishing the new challenge of playing Russian football.
Buzzing
He said: "I thought the new manager (Andre Villas-Boas) might give me a chance but there's probably been too much water under the bridge already.
"Now I'm going to Russia to show it's all about football.
"I want to push myself, try something new and get back to where I was. I still believe in myself. I'm buzzing about playing again and that's something I've missed so much."