Everton midfielder Darron Gibson is facing a spell out injured
David Moyes has revealed that Darron Gibson is likely to be sidelined for the rest of September with a thigh strain.
Last Updated: 14/09/12 2:55pm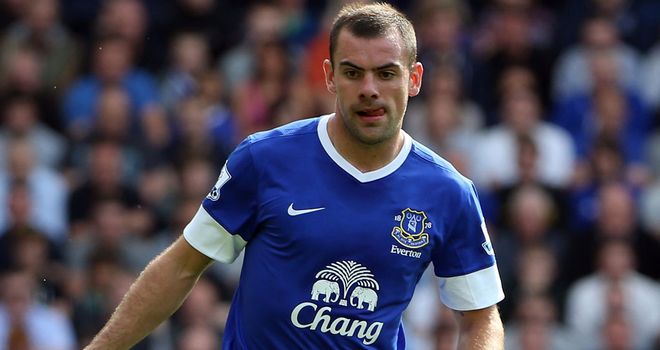 The 24-year-old midfielder has figured in all three of the Toffees' Premier League matches so far this season but was forced off 20 minutes into the first half of the most recent contest, a 2-0 loss to West Brom at the start of the month.
Gibson has already had a couple of weeks to start his recovery and Moyes is hopeful he will not miss too many games.
The Scot explained: "Darron's got a thigh strain and will probably be out for four to five weeks now.
"He's had two weeks now so hopefully we are a couple of weeks down the line already because of the international break - so he may have only a couple of weeks to miss."
Gibson recently told Republic of Ireland manager Giovanni Trapattoni he was still suffering from the disappointment of playing a limited role at the Euro 2012 finals and did not want to be considered for selection in their World Cup qualifying campaign.
Moyes added: "It is a concern for me because he has been very consistent and very good.
"It is a blow but we will have to find ways of getting around it.
"The Ross Barkley situation leaves us a bit tight in certain areas but I've taken that decision."
Earlier in the day Barkley made a loan move to Sheffield Wednesday and, despite knowing the extent of Gibson's problem, Moyes felt it served the 18-year-old's best interests - even if it weakened his own options.
"It would have been ideal if I had got another midfield player in (during the transfer window) because I wanted Ross's development to continue," added Moyes.
"He is now ready, as I see it, to go into men's football after a few games for us but he needs to go play regularly.
"I've only let him go for a month to see how he goes on. It was difficult because we are a little bit short ourselves but I don't want him continually sitting on the bench."