Jose Mourinho is not troubled by Cristiano Ronaldo saying he is feeling 'sad'
Jose Mourinho has urged people to judge Real Madrid star Cristiano Ronaldo by his performances on the pitch.
Last Updated: 14/09/12 6:27pm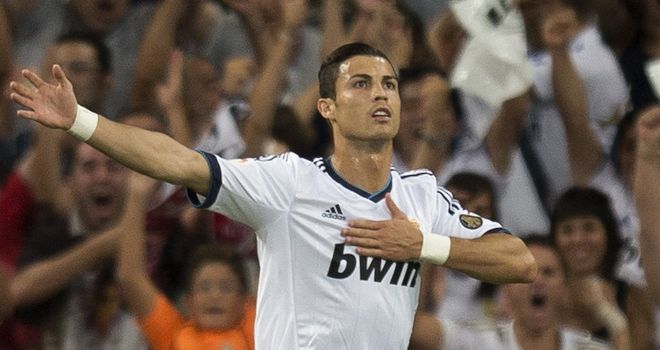 After deciding not to celebrate scoring against Granada earlier this month, Ronaldo subsequently revealed he was feeling 'sad' and that people at Real knew the reasons for his discontent.
Ronaldo has insisted the issue is not financially motivated following reports the Portugal international is angling for a lucrative new contract at the Santiago Bernabeu.
Speaking ahead of Saturday's game against Sevilla, Real coach Mourinho insisted he is not worrying about Ronaldo's current mental state.
"If he is sad and he plays like he plays then that's perfect for me, he can carry on doing the same," said Mourinho.
"I am a soccer coach and my responsibilities are the results and for that reason when the results are not good you kill me. That's what I need to focus on.
"Cristiano is working at his top level, he is playing at his top level.
"Some days better and some days worse, obviously he can't score in every game or be decisive in every game. He is always a team player, a player who in terms of training and discipline is absolutely exemplary.
"I don't have to worry about things that for me are supplementary and not fundamental."
Mourinho added: "Now give Cristiano what he needs, which is peace and quiet and to play football, which is what he knows best and what he likes best.
"We should all evaluate his performance on the pitch and nothing more. Tomorrow in the 80th minute, the 75th minute, he has played a horrible game, he's not in good shape, he's tired, off, another player on.
"That's how we have to judge people, especially those we don't know."