Simon Grayson is open to keeping Adam Hammill at Huddersfield permanently
Simon Grayson is open-minded about keeping Adam Hammill and is staying patient about Jermaine Beckford.
Last Updated: 15/09/12 7:30pm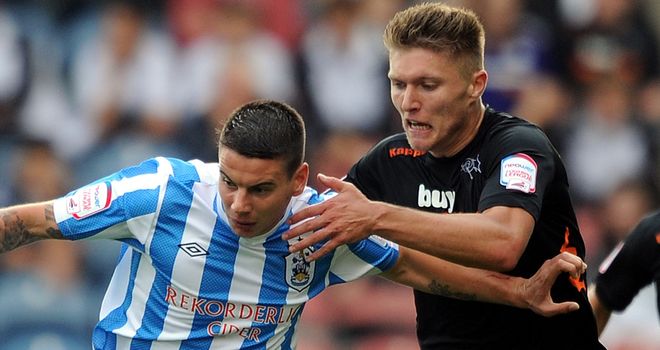 Hammill joined Huddersfield on loan from Wolves before the transfer window closed and he marked his debut by setting up the only goal in Saturday's win over Derby County.
Grayson confirmed Hammill took a pay cut to join the Terriers and he is keeping an open mind about hanging on to the wide-man beyond the New Year.
"We've not got a deal in place, but we'll see where we get with that one in January," said the Huddersfield boss.
"He's just happy to play football, he had to take a pay cut to come here."
The former Leeds chief also admits a deal for Beckford is on hold after Huddersfield failed to conclude a loan deal with Leicester City for the striker before the transfer deadline.
He added: "I think the Beckford deal will probably be off for a while, I'm disappointed we couldn't conclude that on deadline day but we will see what's available.
"I'm pleased with the options I've got, but Jermaine's deal would have been the icing on the cake. I could go and sign another striker tomorrow but I don't think the ones that are available are any better than what we've got."
When asked about the possibility of signing Beckford, Grayson added: "I think it's been put on the back burner from Leicester's point of view, I think they're going to keep him for a while but you never know in football, we thought we'd done a deal but things can change quickly."