Stretford End Flags group wants fans to refrain from Hillsborough chants
Another leading Manchester United fans' group has urged supporters not to repeat their anti-Liverpool chants at Anfield.
Last Updated: 20/09/12 6:11pm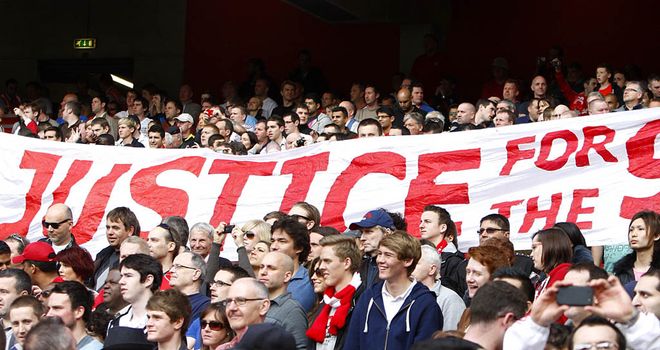 The match between the great North West rivals is always one of the most high-octane encounters of the domestic calendar and it is feared the recent publication of the Hillsborough Independent Panel's findings into the 1989 stadium disaster which claimed the lives of 96 Liverpool supporters could be a catalyst for abusive chants to be sung by some United supporters.
The panel cleared Liverpool fans of any wrongdoing prior to and during the FA Cup semi-final at Hillsborough 23 years ago.
Worries about the reaction of United fans at Anfield were exacerbated by some of the songs that were heard at Old Trafford last weekend which, whilst not referring directly to Hillsborough, clearly have the potential to inflame a volatile situation.
United boss Sir Alex Ferguson has already appealed for calm, as has the Manchester United Supporters Trust, and now the popular Stretford End Flags group has followed suit.
"During Sunday's visit, Liverpool FC will be paying respect to the 96 victims of the 1989 Hillsborough tragedy, following the release of new evidence last week," said a statement on their website.
"Stretford End Flags support Sir Alex Ferguson's calls for Manchester United supporters to respect this occasion and to further refrain from indulging in the type of chants that have been highlighted by the media over the last week.
"We are led to believe that both Liverpool FC's own stewards and local police will be monitoring the behaviour of both clubs' supporters and anyone participating in chants of a derogatory nature run the risk of both ejection and banning from other games."