Podolski happy with Arsenal
Arsenal's new German star Lukas Podolski admits he is already loving life with the club.
Last Updated: 21/09/12 7:28am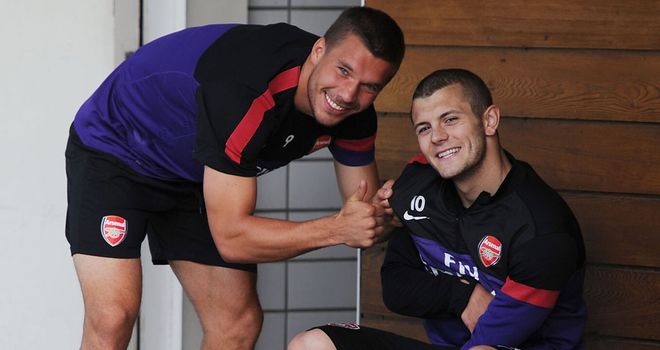 Arsenal's new German star Lukas Podolski admits he is already loving life with the club.
Podolski netted his third goal in as many games when the Gunners came from behind to beat Montpellier away in the UEFA Champions League on Tuesday night.
And along with fellow summer signing Santi Cazorla, the 27-year-old has integrated quickly into an Arsenal side reshaped following the £24million sale of captain Robin van Persie to Manchester United.
"When I came on the first day to the club everyone made it easy for me," he said.
"Not only the team around the team, the coaches, the physios, the president and all the staff make it easy for me.
"We have only played four or five matches and I have three goals and I am very happy about the good start for me and for the team.
"Last week we played very well. This is the style of football that I like, we play with one or two touches.
"We play straight to the front, but we have only played four matches and we are not ready to speak about the title or the Champions League.
"We must carry on playing like the last few matches and we must keep on fighting."
Tattoo
Podolski even admits he could be tempted to have another tattoo if things continue to go well at Arsenal.
Podolski has the crest of home-town club Cologne inked on the inside of his right arm as a mark of respect for the team he joined at the age of 10, and left for the second time this summer in an £11million deal.
And the Germany striker, who endured a difficult three-season stint at Bayern Munich before returning home in 2009, is hopeful of making a similarly lasting success of his time at Emirates Stadium.
"Cologne meant so much to me because I was there for a long time, maybe I will do the same with Arsenal because I like this club," Podolski said.
"It is a big club and maybe we can do a tattoo. We can speak about this in the next three or four years."