Jol admits key role in Berba deal
Martin Jol admits he did play a major part in Dimitar Berbatov's decision to join Fulham.
Last Updated: 21/09/12 3:21pm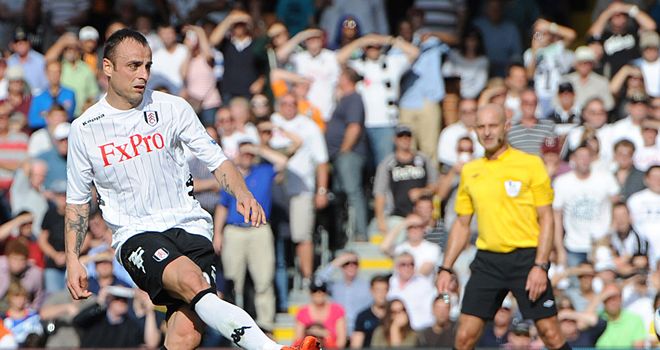 Martin Jol admits he did play a major part in Dimitar Berbatov's decision to join Fulham.
The Dutchman signed the Bulgarian for the second time in his career when he landed him from Manchester United on deadline day.
But he already had experience of working with Berbatov, having snapped him up in 2006 when he was manager of Tottenham.
"He had other options at that time and he still made that decision to come to us, to me, to Tottenham," Jol said.
"So I think that is the sort of relationship I've got with him because there was probably even a bigger club then coming in for him and he still wanted to come to Spurs.
"But we shouldn't stretch our imagination and I think Berbatov could have gone to Italy. He was on the fringe of going to an Italian club.
"Then I spoke to him and maybe that convinced him. If he plays well like he did the other day, there will always be a good relationship."
Big
Jol admits that despite only just joining the club, Berbatov is the 'biggest' player in the squad.
"The big difference for him is that he knows, if he is fit, then he will play a lot of games," said Jol.
"He's an important part of our set-up, of course. He's probably our biggest player.
"At Man United, which of course is a bigger club, it was maybe different in the last year or so, but don't forget that Dimitar was the top scorer wherever he played.
"In Germany for Leverkusen, he was top scorer. He did the same at Spurs. He was ahead of all the other players, like Robbie Keane, (Jermain) Defoe.
"Then he went to Man United. He was their top scorer and, of course, they trusted him over there because he was their top scorer.
"If you sign someone, you trust him. Otherwise, you'd better leave it.
"So I think all these managers who signed him, they trusted him. I don't see any difference."