PSG say they have not had any contact with Real Madrid's Cristiano Ronaldo
PSG have refuted allegations they have had any contact with Real Madrid's Cristiano Ronaldo.
By Lucas Brown
Last Updated: 21/09/12 6:41pm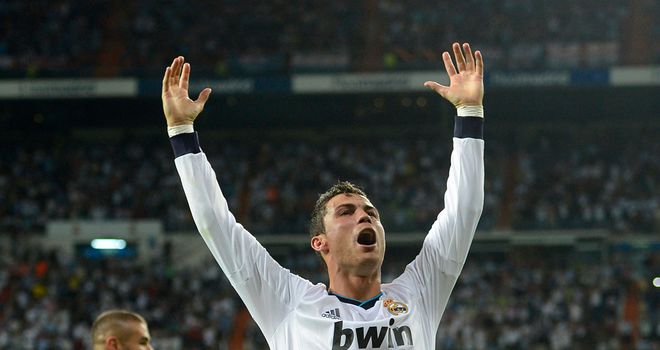 The French club are now one of Europe's big spenders since being taken over by the Qatar Investment Authority and they have signed a host of star names in a bid to compete with the best.
Rumours have suggested PSG let it be known how much they would be willing to pay Ronaldo should he ever be tempted to leave Madrid, but club president Sheik Al Khelaifi has dismissed the stories.
"No, that's not true. If Cristiano is sad it's not because we've been in touch with him," the PSG supremo told Marca.
"If we were interested we would speak to Madrid first.
"I'm not going to talk about other clubs' players. I respect Madrid and Florentino [Perez] is a great president. It's too soon to talk about Ronaldo. He's very professional."
The next Messi
PSG have spent more than €200million (£160m) on more than 15 players since the Qatar Investment Authority took the reins in 2011 and Sheik Al Khelaifi is still scouring the market to find a replica of one star in particular.
"We're looking for the new Lionel Messi. Let's hope we find him," he continued before being asked if the new Ronaldo would also be a target.
"They are the two best players in the world and it would be great to have them both in your team. They have a unique charm. I like them both."
While Shiek Al Khelaifi is an admirer of Barca and Real's players, he is keen not to upset either club by suggesting a move for anyone could be on the cards.
"They have the best players and it's good for us to have a good relationship with them and the rest of the clubs," he said.
"Our project is also based on respecting other clubs. We're going to respect football.
"I saw the highlights of both Madrid and Barcelona's matches in the Champions League in midweek. They are the best and my favourites. We learn from them."