Anfield trip excites Evans
Jonny Evans has no doubts Man United's annual trip to Liverpool remains one of the highlights of the football calendar.
Last Updated: 22/09/12 1:40pm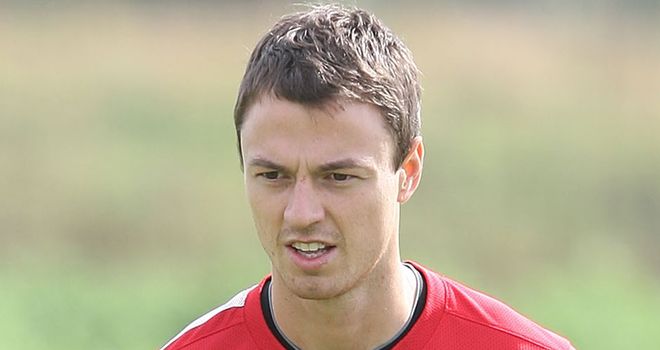 Jonny Evans has no doubts Manchester United's annual Premier League trip to Liverpool remains one of the highlights of England's football calendar.
As a lifelong United fan, growing up in Northern Ireland, Evans never had any doubts who the club's biggest rivals were.
Manchester City's recent rise, coupled with Liverpool's fall from grace, which has accelerated over the past couple of years, has challenged that notion.
But, in terms of historical significance, both geographical and success, Liverpool remain the team to beat.
"The history of the two clubs makes it one of the biggest games in English football," said Evans.
"The distance thing, the Merseyside-Manchester rivalry and all the history that goes with it means it will be no different on Sunday.
"You can go through tactics and talk about how many points the teams have this season but it all goes out of the window when it comes to a Manchester United-Liverpool game. There is goodness knows how many years of rivalry to take into account as well."
This game is different though.
There can be no other way to assess a game that is being played to the backdrop of Liverpool's first match at home since that damning Hillsborough report was released last week, absolving supporters of the club of all blame for the 1989 stadium disaster and criticising police actions.
Unwanted chants from United supporters at Old Trafford last weekend have sparked fears of trouble at Anfield.
Influential fans groups have already attempted to calm the situation, while United manager Sir Alex Ferguson, who has twice made pointed comments about his feelings, has also penned a letter that will be distributed to United fans at Anfield before they enter the stadium.
The obvious concern is that with sensitivities so high, visiting fans may offend by singing any number of anti-Liverpool chants that have nothing to do with Hillsborough at all.
Improvement needed
All this and a football match to win as well, with Liverpool desperate to record their first Premier League victory under Brendan Rodgers and United just as keen to end a five-match winless sequence at Anfield.
"We haven't had great results away at Liverpool in the last couple of years so it's up to us to put that right," said Evans.
"It's always a big occasion but one every Manchester United player relishes.
"It's something you never forget with the atmosphere and the stick you get as well. It's all part of it.
"We enjoy that side of it and it's going to be a really big game."