England manager Roy Hodgson disappointed former captain John Terry has retired
England manager Roy Hodgson admitted his disappointment after former captain John Terry ended his international career.
Last Updated: 24/09/12 6:50pm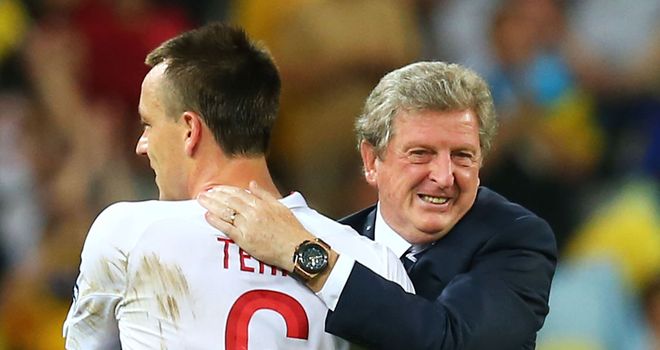 Terry announced his decision on Sunday, pointing the finger firmly at the Football Association for making his position 'untenable'.
The Chelsea captain has appeared at an FA hearing over allegations he racially abused QPR defender Anton Ferdinand during a league game last October and he spent more than five hours at Wembley Stadium on Monday in front of an independent panel.
Terry has always denied the charge, with the FA action coming more than two months after he was found not guilty over the incident at Westminster Magistrates Court.
The 31-year-old, who won 78 caps after making his debut in 2003, remained committed to the England cause despite the court case and was a key member of Hodgson's squad for Euro 2012.
Hodgson said: "I'd like to thank John Terry for his commitment to the England team since I became manager.
"I am of course disappointed to lose a player of John's international experience and exceptional ability. I have enjoyed a good relationship with John during my time as England manager and I reluctantly accept his decision.
"I can only confirm that he had the courtesy to call me prior to announcing his retirement from the England team. I'd like to wish John well for the future with Chelsea."
In a statement, the FA said: "The FA would like to thank John Terry for all of his efforts with the national team over the past decade. During his 78 appearances John has always given his full commitment to the team."